STAR Student selects this year's STAR Teacher
As senior Griffin Tillman headed to the principal's office in mid-December, he racked his brain, trying to single out which rule he violated. "Even though I knew I hadn't done anything," Tillman said, "getting called to the principal's office just gives you that feeling that you have done something without even knowing it."
As it turned out, Tillman had been named this year's STAR Student.
"
'Griffin looks like he's in trouble…nah, it's Griffin…there is no way he's in trouble. He must have gotten a scholarship.'"
— AP U.S. History teacher Susan King
The STAR Student designation is awarded to the senior who has earned the highest SAT score and is within the top ten percent of his or her graduating class.
Tillman's highest score on the newly designed SAT was a 1540 out of 1600. His main strategy in attaining a near-perfect score was simply becoming accustomed to the timing and test format after several attempts. "I took it three times, with this score being from my third attempt," Tillman said. "The best help was just taking it multiple times and getting comfortable with how it all worked."
His next task was to select the teacher that has had the greatest positive impact on his educational career. Tillman ultimately nominated his AP U.S. History teacher Susan King as this year's STAR Teacher.
Tillman chose King with his experience in her class in mind. "If there's one thing students love to do, it's complain about their classes," Tillman said. "You can't have a conversation about school without at least one mention of something negative, but if you ask kids about AP U.S. History, everyone loves it."
He notes that King's instruction was exceptional in which she managed to not only effectively teach the course material but also engage with her students and create an enjoyable classroom environment. "The class was engaging and energetic, making it one of my favorite classes," Tillman said.
King was surprised to receive the good news. "I actually saw Griffin walking with his counselor in the hallway before they called me into Mr. Leonard's office," King said. "He looked so serious in the hall, and I thought to myself, 'Griffin looks like he's in trouble…nah, it's Griffin…there is no way he's in trouble. He must have gotten a scholarship'."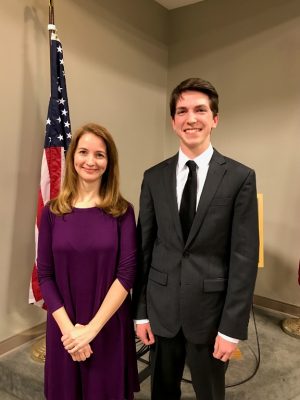 Regardless of her initial shock, King was honored to be viewed in such high regard by one of her students.
For King, being named this year's STAR teacher means that she was "incredibly lucky to teach such a talented and hard-working kid as Griffin," King said. "This award means so much to me because, as far as I am aware, it is the only award chosen by a student, which is the group we are here to develop."
King taught Tillman during his junior year of high school.  "There aren't many kids that I can think of who have that kind of sense of humor, work ethic, intelligence, and manage to have the maturity to capitalize on their natural gifts," King said, "but with that combination, the sky's the limit for Griffin."
While Tillman could have easily excelled in less demanding courses, he chose to hold himself to higher standards, which "says volumes about his character," King said. "He has intentionally chosen difficult Advanced Placement classes with heavy work loads instead of taking easier options where he could've gotten an A with significantly less effort."
For Tillman, the benefits of having a rigorous course load outweigh the disadvantages. In spite of taking a difficult path in terms of academics, Tillman is "setting an example we should all follow by challenging himself to succeed," King said.
Beyond his outstanding grades, Tillman also presented his admirable personality in the classroom through his charisma and humor, both aspects that made him an exemplary student apart from numbers. "My favorite thing about having Griffin is class was about how much he used to make me laugh," King said. "He was always the kid who would throw in a joke or make a funny observation about what we were studying."
As a result, Tillman largely contributed in minimizing the tension associated with taking a college level class. "I know it was unintentional, but he really helped set the tone of a relaxed, fun atmosphere in what is oftentimes a stressful class," King said. "When the students leave the room and the teacher is still smiling about the day's antics, you know that you teach a quality group of kids. That happened all of the time last year, and Griffin was a huge part of that."
Although the STAR Student is selected based on standardized testing, King believes that Tillman's newly-given title reveals more about his work ethic developed from his desire to excel and, more importantly, expand his horizons. "Griffin has been named the STAR Student because he is incredibly bright, hilarious, works like crazy, and manages to do it all with grace and personality," King said. "I'm just honored to have gotten to be a part of his time here at Starr's Mill."