Starr's Mill bids farewell to beloved media center specialist
As the 2016-2017 school year comes to a close,  Starr's Mill prepares its last goodbyes to one of the school's most cherished staff members, media center specialist Leigh-Anne Hanie. Hanie has worked at Starr's Mill since it first opened 20 years ago and her presence will be greatly missed.
Hanie has greatly impacted Starr's Mill High School, as well as students and faculty, over the years through her work in the Media Center and Ex Libris. She not only keeps all of the books in the media center maintained but aids students, teachers, and administrators all while harboring a wonderful attitude. She also acts as one of the sponsors of the Starr's Mill book club, Ex Libris, by preparing food and books from outside libraries for each meeting.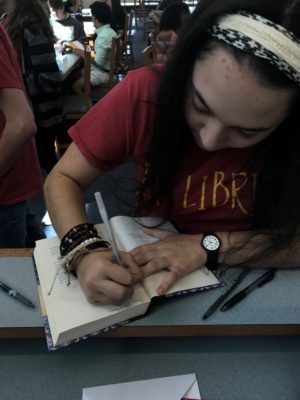 Her favorite part of being the Starr's Mill Media Center Specialist is "working with the kids. It keeps [her] entertained [and] there's always something different," Hanie said. Co-workers and the close friendships she has made over so many years make her time at Starr's Mill much more enjoyable.
Hanie's close friend and coworker, English teacher Lela Crowder, said that the media center "brings together all parts of the school because all the departments use it. Everybody has access to it: administrators, teachers, [and] students. Everybody gets a chance to use the media center so it's not just for one part of the school," Crowder said. Crowder compares the media center to the heart of the school because it as well as Hanie have "influence over every single part of the school."
Hanie has also greatly contributed to students at Starr's Mill through the creation of a Makerspace that has kept many students occupied throughout the day. This Makerspace, full of exciting engineering objects, represents her genuine care for students and their career prospects. It is through many seemingly small activities with huge impacts that Hanie influences Starr's Mill and its students and staff.
Senior Sofia Quinones-Vilela has known Hanie for three years through Ex Libris and her daily trips to the media center to finish homework or study. "Every morning I go in and I talk to her. Granted I'm graduating, but I'll probably just miss having those daily morning talks where we discuss books and recent things that we have been doing," Quinones-Vilela said.
While Hanie has not yet made specific plans for her retirement besides a change from her current routine, she looks forward to a river cruise she will be taking this summer from Amsterdam through Germany and France. She is also excited to spend more time with her children and the prospects of moving to Savannah, Ga. in a few years.