Panthers don't stop
Starr's Mill students continue excellence over summer break
While most high school students waited eagerly on the edge of their seats for the final, wondrous bell that would signal the next two months of freedom, many Starr's Mill High School students had plans beyond lounging lazily by the pool. Summer 2017 was a time of accomplishment and contentment for a handful of the Mill's teams and individuals.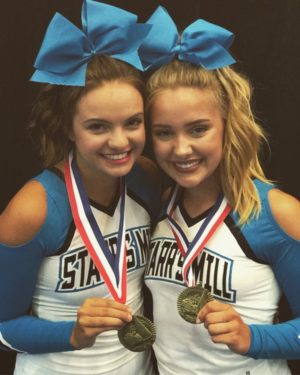 For the varsity cheer team, success came as a result of hard work both on and off of the mat. The Georgia Cheerleader of the Year competition included participation by three senior girls from Starr's Mill who went through an extensive application process mixing extracurriculars, awards, academic achievements, and cheerleading skills. Each of the applicants, including all three from Starr's Mill, were then narrowed to the top 40 where an interview process began. "At the end of the competition, they announced the top 16 from the competition and Claire Nicola and I made it,"  senior Mary Lou Masters said. This honor also means that both girls not only have the opportunity to be on the Georgia All-State cheer team, but also represent Starr's Mill as great leaders and athletes.
Meanwhile, the Pantherettes conditioned and trained at the Universal Dance Association's dance camp. The camp was a four day event with many teams learning routines and competing. Junior Gracen O'Neal shared that the dance team from Starr's Mill was able to perform their routine at camp and took the first place title. "You can also qualify for nationals (in February) by receiving all blue ribbons, which we also did," Gracen said. Not only did the Pantherettes secure a win during the summer, but are now preparing for success in the coming year as well.
Neither the state line of Georgia nor the U.S. border limited the distance that students traveled to serve others over the summer. A group of 35 students and volunteers from Heritage Christian Church was just one of many to travel outside of the country for mission trips. Senior Annie Brown was just one of many students who traveled to Haiti and participated in restoration projects. "We built an irrigation system, framed a future missions house, and painted bathrooms," she said. "My heart was completely changed by the people I met in Haiti and the things that I saw."
Connor Gayda, a member of the Class of 2017, was able to take a piece of his Spanish career at Starr's Mill with him to college. After a process of paperwork and a videoed interview with Spanish teacher Madeline Rodriguez, Gayda received the American Association of Teachers of Spanish and Portuguese 2017 Scholarship.
Starr's Mill students embody the qualities of hard work and service, helping them demonstrate the school's motto — Demand Excellence.