Oak Grove fundraiser a slam dunk
On Oct. 5, the Harlem Wizards came to Peachtree City to lead a fundraiser in conjunction with Oak Grove Elementary and Starr's Mill High School. The evening was filled with laughter and cheers from elementary school students and parents as the Wizards took pictures with spectators in the bleachers and gave away a variety of free items to the crowd.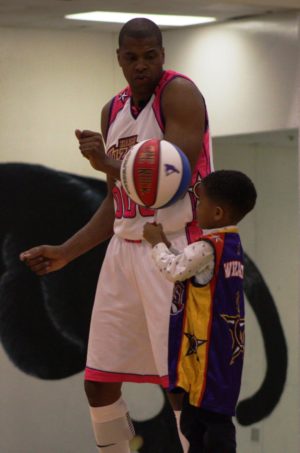 The main event was preceded by the introduction of Fayette Force, a lethal team comprised of Oak Grove teachers, Starr's Mill students, and a Peachtree City policeman and fireman. The Harlem Wizards were introduced to the crowd and performed elaborate tricks and handshakes as they ran out into the gym. After a stunning performance of the National Anthem performed by junior Hailey Grebeck, the game commenced.
Throughout the match the Wizards players displayed their skills and plays, often embarrassing the Fayette Force. Oftentimes, the Wizards would wander over to the crowd, giving the Fayette Force easy opportunities to score.
After the second quarter, the Wizards invited everyone to play on the court, and soon the court was swallowed by a sea of running, excited children. Once the court was cleared, Starr's Mill's very own Pantherettes performed. After the game the Wizards took pictures with the young fans.
"[People] say when I jump it looks like I'm walking across the sky," Harlem Wizards player Skywalker said. "We like to help bring joy to communities."
Before joining the Wizards, Skywalker played professional basketball in Europe. Skywalker has been a Harlem Wizard for five years and during his time as a Wizard he has traveled to China, Hungary, Turkey, and more. The funds raised at games are donated to different charities.
The Harlem Wizards came out for Oak Grove three years prior to this most recent event. Without a big enough gym of their own, Oak Grove reached out to Starr's Mill asking if they could host the event.
"It was just raw fun," Oak Grove Principal Felecia Spicer said. "It was the kind of fun everybody laughs at and enjoys."
Spicer gave praise to the parents and students involved in setting up an extremely successful event for Oak Grove.