Mittelman brings balance to science department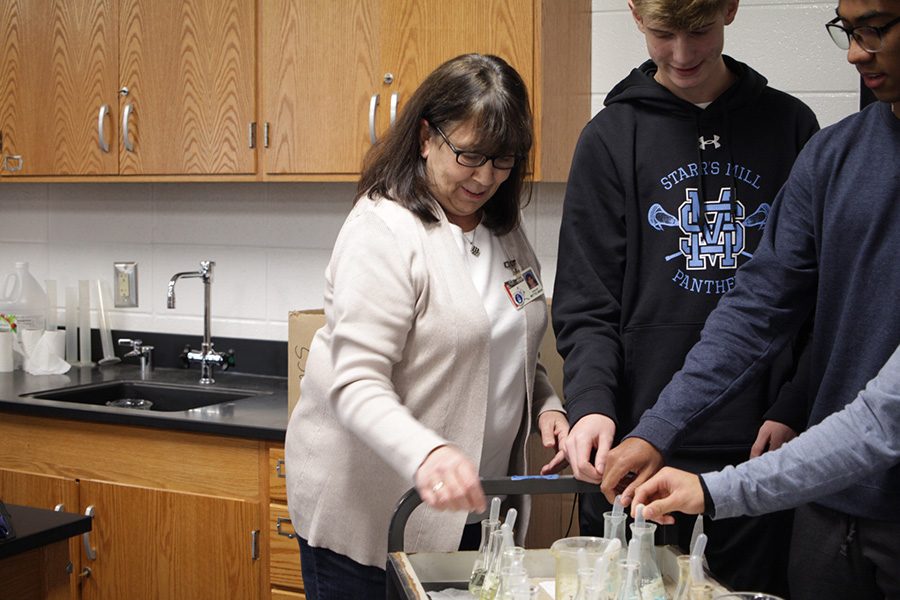 When substitute teachers come to mind, people may imagine a sick teacher scenario that only lasts a day or two. This couldn't contrast more with the occupation of Deborah Mittelman.
Mittleman, the long-term sub taking over all levels of chemistry previously assigned to Dr. Toyin Mafe, has been working in an effort to get her new students back on track.
"My philosophy is always do your best," Mittelman said. "I hope I bring to class [my ability to] try as hard as I can, because I expect my kids to try that hard, too."
It is unclear to the public why Mafe no longer works at the Mill. The administration does not comment on personnel issues. According to the minutes from the Jan. 14 Board of Education meeting, Mafe transferred to the Office of Student Achievement and has been reclassified as a homebound teacher.
Mafe's vacancy leaves the school in need of a new AP chemistry teacher, but until then, someone needs to teach the students. As a result, the administration has handed the torch to Mittlelmen, a fifteen year long term sub for the school.
"
I mean she is pretty much a rocket scientist, and it is my understanding of her background that she has actually worked on rockets."
— Principal Allen Leonard
"Mittelman has been a long-term sub in multiple capacities, in both math and science, over the past ten years at Starr's Mill," Principal Allen Leonard said. "She has actually been a long-term sub in AP chemistry in the past."
Although Mittelman is walking into the AP chemistry room halfway through the school year, her background alludes that her presence will provide both hope and promise.
"Mittelman has a degree in mechanical engineering and was in the Air Force for a long time," Leonard said. "I mean she is pretty much a rocket scientist, and it is my understanding of her background that she has actually worked on rockets."
While Mittelman possesses the certifications on paper for her current position, her unique attitude and positive mentality make her that much more qualified for the job.
"With Mrs. Mittlemen, I can fully understand anything going on in chemistry," sophomore Jacob Maples said. "Mrs. Mittleman is like a breath of fresh air."
Mittelman's approach and expertise do not solve the problem beyond this school year, however. Leonard and science department chair Dan Gant are already on the prowl for a viable candidate who will benefit students for the remained of this year and into the foreseeable future.
"Right now the position is posted and Mrs. Mittelman is the long-term sub. The position is posted if we were to have someone who is well qualified to take the position," Leonard said. "We could potentially fill it this school year, but if not, we will advertise it for next school year."
Students can only hope that next year's teacher is as upbeat and experienced as Mittleman.