The movies you didn't see
A viewer's guide to last summer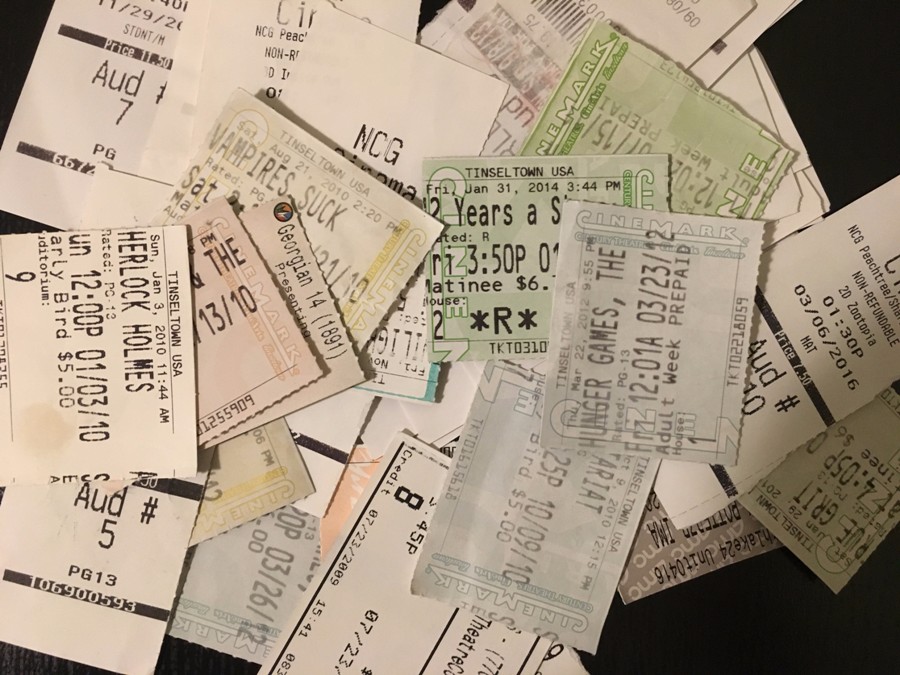 Social media was hit hard with all sorts of memes this summer. Of course, this is typical when rambunctious internet age-teens are let loose, without the drudgery of high school to keep them occupied. One of note was simply a reaction image with the phrase "sometimes… things that are expensive… are worse." This anti-consumerist gem came to us courtesy of the hilarity that is Brian Jordan Alvarez's Youtube channel, and its commentary extends to nearly every aspect of our modern lives, especially our entertainment.
"
"Aside from the politics of it all, one thing is certain: it's not fun to see a bad movie."
— A&E co-Editor Blythe Terry
So often movies with the most overstuffed budgets, breathtaking effects, and highest expectations are a serious drag. Why that happens can be pretty complicated, and reasons range from film studios solely seeking profit, to big name filmmakers being given too much autonomy on projects (and yes, the "Star Wars" prequels are a key example of the latter phenomenon). But aside from the politics of it all, one thing is certain: it's not fun to see a bad movie.
A way to avoid the agony of the accidental-garbage-viewing experience is not only to keep Rotten Tomatoes bookmarked on your browser but to widen your horizons. Treat yourself to a trip into the city to see your most anticipated indie flick, and be aware of when smaller movies may show up in local theaters. Don't sleep on the dollar theater! And yes, just because some things that are expensive are worse doesn't mean that all indie movies are phenomenal, but at the very least the artistic intent of these smaller movies is genuine.
To help turn movie mistakes into all-time favorites, below is a viewer guide regarding this past summer's releases. In it are some of this summer's blockbusters that not only flopped but were consistently disliked by viewers, along with similar indie films that received high critical and audience acclaim.
Before the list, here's a quick preface regarding the definition of the word indie: it's complicated and relative. For the purposes of this article, any movie with considerably more independence than the average blockbuster qualifies.
Baywatch vs. The Little Hours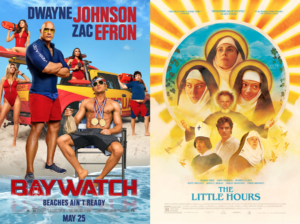 It was hard to expect much from the "Baywatch" reboot since most movie-goers were probably questioning whether such a thing needed to exist in the first place. But there were some appealing aspects, mainly coming from its cast. Zac Efron, Priyanka Chopra, and particularly Dwayne Johnson provided comedic promise for the film. But the reviews are in, and it was nothing special, even as a harmless summer fun flick. There's a bright line of watch-ability that only truly bad movies cross, and "Baywatch" is one of those movies.
A better R-rated comedy to invest time in is "The Little Hours." It has many of the same characteristics that made "Baywatch" viewers interested but in a much more nuanced and far less stale way. It centers around a pack of promiscuous nuns Alessandra (Alison Brie), Fernanda (Aubrey Plaza), and Ginevra (Kate Micucci) and all that ensues when the attractive young servant Massetto (Dave Franco) begins working at the convent.
The cast is an impeccable group of talented and passionate comics, which is good because movies tend to be more engaging when the actors are actually interested in being funny instead of reading a script. The entire premise is dynamic, too; medieval period piece comedies aren't something that you see everyday. Not only that, the film seems to pride itself in turning prior perceptions on their head, which can only make for plenty of laughs. "The Little Hours" probably isn't a slam dunk all around, but it's certainly fun, and considering the lack of good comedies Hollywood seems to be able to come up with, it's worth a watch.
Wish Upon vs. A Ghost Story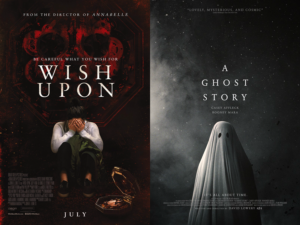 "Wish Upon" was your typical horror film: forgettable and not at all scary. In this case, the film revolved around screaming teens and blood soaked relics. This issue of mediocrity is a problem that's plagued the genre for a very long time because it's not easy to scare people, and even more difficult to create something of note artistically in the process.
Unfortunately, the indie sector didn't provide any exceptional horror films this summer, at least not in the traditional sense. However, there was a film that used horror iconography to its advantage and certainly explored the darker sides of the human psyche: "A Ghost Story."
It's more calm than scary, and probably way more bogged down in artistic sophistication and therefore un-aligned with a horror fan's typical criteria for cinema. That being said, "A Ghost Story" may possess something that other genres can benefit from. What most horror movies lack in terms of message and thoughtfulness, "A Ghost Story" carries in droves. The story follows a recently deceased man (Casey Affleck) who takes the form of a bedsheet-clad ghost, and who returns to his now grief-ridden wife (Rooney Mara). The ghost learns that he is unable to interact with the physical realm, and as such embarks on a journey through times past– the whole thing warps the viewer's' understanding of time, and this abstractness might be an appropriate way to dive into a subject matter as demanding as the human mind. All in all, it's a thematically heavy film with the bonus of being a tad spooky.
King Arthur: Legend of the Sword vs. The Beguiled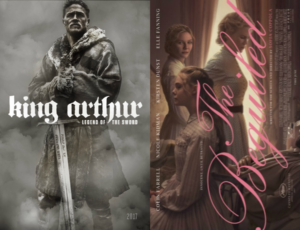 "King Arthur" boasts intense, modern action and the stylistic flair of director Guy Ritchie, but failed to make a lasting impression. It's not clear why the iconic "sword in the stone" tale needed a reboot at all, and what the 2017 edition did to spice up the original story wasn't all that great.
This is a shame, because the historical fiction genre can be very nuanced and compelling. Enter Sofia Coppola's newest film, "The Beguiled." A retelling of the 1966 novel and 1971 film, both of the same name, "The Beguiled" revolves around the events following the arrival of injured Union soldier Corporal McBurney (Colin Farrell) to a sheltered girls' school in rural, Civil War-era Virginia. From there, he meets many of the seemingly proper Southern women– Miss Martha, the head of the school (Nicole Kidman), Edwina (Kirsten Dunst), and Alicia (Elle Fanning). What ensues is sexual tension and blood-drenched betrayal, both making for a powerful thriller.
This comparison is telling, because even though both movies draw on older stories, one arguably succeeded while the other did not. Reboots and rehashing are something that the general public has grown tired of, but the reason for that is more so the lack of intent behind most blockbuster reboots than the nature of the reboot itself. These large movies are trying to milk as much money as possible from nostalgia and a shared cultural past rather than meaningfully refocus older ideas.
Valerian vs. Sleight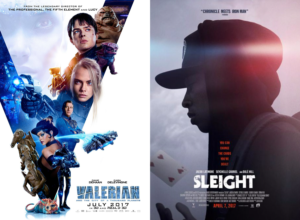 The box office flop of "Valerian and the City of a Thousand Planets" wasn't so much a function of money-grabbing, but the film was undeniably misguided. The project was mainly crowd-sourced and funded out of pocket by big-name director Luc Besson, and even then managed to become the most expensive European film ever made with a budget of $177-200 million. Besson's enthusiasm aside, almost nothing positive can be said about this movie.
The film is an adaptation of the French sci-fi comics "Valérian and Laureline." The title characters drove the series, providing a heroic duo with plenty of chemistry. It's a shame that in the film adaptation, both Valerian (Dane DeHaan) and Laureline (Cara Delevingne) never to cease to disappoint. Beyond that, "Valerian" has no plot to speak of, and despite a huge effects budget the aesthetic is reminiscent of a washed-out "Avatar." It's boring, dull, and disastrous in every way imaginable, except for maybe the shameless Rihanna cameo.
A more promising option is "Sleight." It's not inter-galactic but certainly brings in vivid science fiction elements as it focuses on the life of teen magician Bo (Jacob Latimore) in the aftermath of his mother's death. The film is mysterious and well crafted, delivering an engaging spectacle and story. Most importantly, it's something different and has an engaging main character, something "Valerian" sorely lacked. To top it all off, "Sleight" did it with a $250,000 budget.
The Mummy vs The Big Sick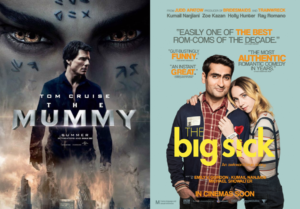 To be honest, about the only thing these films have in common is a woman in a coma. In one case, that woman is a thousand-some year old mummy, and in the other, it's a quite normal human. In addition, one of these films was unspeakably terrible and the other not only stars the adorable comedian Kumail Nanjiani but seems to have mastered the subtle art of the rom-com and constructed a sweet and surprisingly riveting film. Take your pick.
So yes, the comparison falls apart, but "The Big Sick" really needs to be talked about! Co-written by Nanjiani and his wife Emily Gordon, the film follows not only the true story of their romance and Gordon's entrance into a medically induced coma, but expands into culture clash, family drama, and self-reflection. It's authentic and a rare treat among movies.
All this being said, not all blockbuster movies are bad, but on the contrary, some of them are phenomenal examples of film as an art form. But they shouldn't be the only option, and they aren't. Many of the indie films described above are still showing in theaters, and if not will be available to stream online soon. Perhaps it's times to take a chance on something new.