The sound of school
Back-to-class jams for Starr's Mill students
School is back in session and students are already looking for ways to escape after the struggles of a long day. One simple technique that can relieve students from the stresses of school is the universal language of music.
Included is a playlist of handpicked songs chosen after getting opinions from various Starr's Mill students. This wouldn't be the perfect back-to-school playlist without featuring some of the latest and most popular songs and artists as well as those up and coming. This simple yet inclusive playlist appeals to all students with a taste of different genres and influences.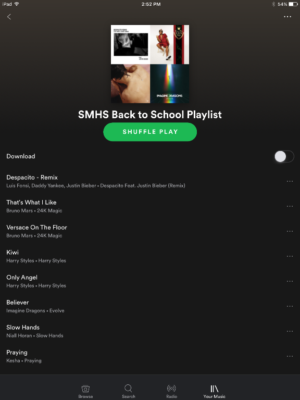 One artist featured by student popular demand is Bruno Mars. Mars has won multiple Grammys and has topped charts worldwide with his funk music style, dancing skills, and charismatic personality. "Bruno Mars is the embodiment of swag and that's why so many people, particularly teens are attracted to his music," sophomore Madison Lucas said. Mars was awarded with the Visionary Award at the 2017 Teen Choice Awards earlier this month for all his has done for the field of contemporary music.
Imagine Dragons, a band widely praised by high schoolers across the country, is also incorporated in the playlist. "Imagine Dragons offers a variety of catchy music that I enjoy," sophomore Grace Maneein said. Imagine Dragons scored a Teen Choice Award at the 2017 ceremony for their hit song "Believer," the song featured on this playlist. "Believer" is currently fourth in the Billboard Hot 100 and on the rise.
Even though One Direction broke up, all five of its former members are thriving individually, two of which made the playlist. Harry Styles, whose first solo album is catching attention in the world of music, has two songs featured on the playlist. Styles' album is yet to release a single, which means it includes plenty of fresh songs not overplayed on the radio. The other prior member covered is Niall Horan. Horan's latest release has already topped Billboard's charts and won an award at the Teen Choice Awards. Styles also boasts two awards by Teen Choice for Choice Male Artist and Choice Rock Artist.
The Mill wouldn't be in the South if it's playlist didn't include at least a couple of country songs. Sam Hunt has quickly rose to the top of not only country charts, but mainstream charts after the release of his first and only album "Montevallo" in 2014. He's since released several singles such as the one on the playlist. Hunt's pop-country sound has attracted teens to his music. He was awarded with Choice Country Song at the Teen Choice Awards. The additional country artist included is Midland. Midland is a up and coming country group whose debut album was released just last year. They are known for their retro sound and vibe and chart topping single "Drinking Problem" getting them on the playlist.
This wouldn't be a playlist with the most popular songs without including the current number one song on Billboard's Hot 100 "Despacito" by Luis Fonsi and Daddy Yankee featuring one of the most teen beloved artists Justin Bieber. Although Bieber may not actually know the lyrics he sings in "Despacito," it's certainly become such a trendy song especially with high schoolers because of his appearance on it.
A playlist with a little something for everyone, these back to school songs give students something to look forward to other than homework. Either after school or between classes, this playlist provides students a much needed opportunity to rewind and unwind.