NEEDTOBREATHE puts on electrifying show
Hang on for a minute...we're trying to find some more stories you might like.
The beginning of this August, the widely popular rock band from South Carolina NEEDTOBREATHE started their 2018 domestic tour which will last through October. Since their 2016 album "Hard Love," the Grammy-nominated band has released 12 singles, though no full-length albums.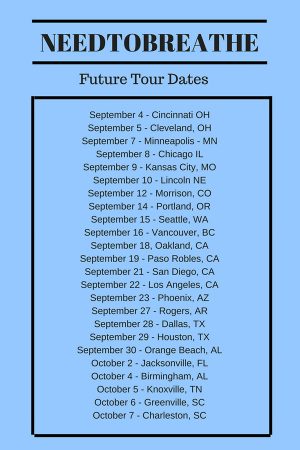 On Aug. 24, the band came to the Verizon Wireless Amphitheater in Atlanta, Ga. From the smell of popcorn from nearby vendors to the surprisingly cool weather, the entire atmosphere of the outdoor amphitheater was great for a concert.
The opening act for NEEDTOBREATHE on this tour is Johnnyswim, the husband-wife duo based out of Los Angeles. Sometimes the opener for a concert fails to entertain the audience, but Johnnyswim exceeded at drawing in the crowd. The folk/rock duo, with their stellar vocal skill, woke up the crowd and got them ready for the main act. 
After several minutes and several sound checks, lead singer Bear Rinehart and the rest of the band loaded the stage. The crowd went wild, and from the opener to the closing song, the band mesmerized the audience. Everything from the fantastic lights to the powerful voice of Rinehart created an amazing concert experience. The use of guitar, mandolin, banjo, bass guitar, as well as a saxophone made the concert that much better.
NEEDTOBREATHE seemed to jump around in their song choices. They played old, new, popular, and lesser-known songs. Also, the band performed an amazing version of the classic rock song "House of the Rising Sun" by The Animals.
NEEDTOBREATHE's live performance was a fantastic experience that would be enjoyed by not just hardcore fans, but by all music fans.