Panthers ransack the Raiders in 20-0 win
"We [have] really good players," coach Jeff Schmidlkofer said, "but it's a grind right now."
On Tuesday night, the Panthers proved coach right, beating Mays 20-0 in their fourth game in six days. The win improved their record to 8-1.
Early on it was clear that the Panthers were in control, as they went up 5-0 halfway through the first quarter. Senior Brayden Jenks scored two of the first five goals and assisted the other three. After Starr's Mill tacked on another goal, they scored two more within ten seconds of each other, stretching their lead to 8-0 with 1:17 left in the first quarter.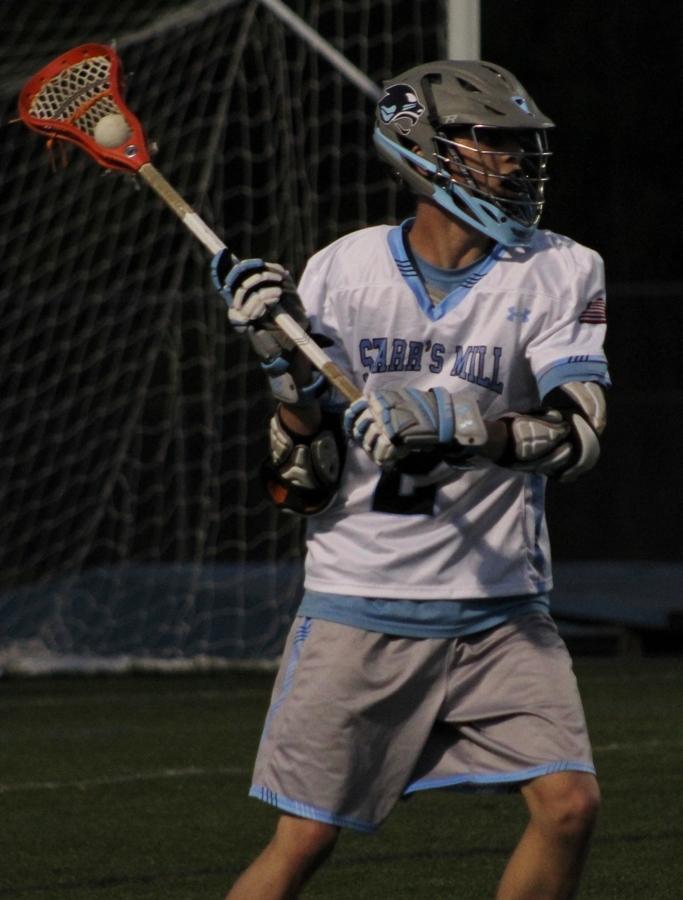 "[We have to] make sure we're staying on the right page and play the game right," Schmidlkofer said. "[We] make sure we are pushing each other."
The Panthers pushed indeed, and after the first five minutes of the second quarter the Panthers extended their lead from 10-0 to 13-0. Starr's Mill kept control and eliminated any chances for the Raiders to advance the ball past midfield to create any scoring opportunities.
With possession, the Panthers moved the ball easily.  Players constantly cut toward the goal, resulting in multiple assists and scores. Sophomore Avery Jenks finished the night with nine assists, many of which were to his brother who scored his fourth goal of the night with 33 seconds left in the half.  The Panthers took a 17-0 lead into the locker room.
"We played good and moved the ball around a lot," sophomore Ethan Sacks said. "We honored the game and played pretty well."
After halftime, the Panthers eased off the pedal, deciding to play a more passive game, as the players were comfortable with their lead. The first goal of the second half did not come until 4:23 left in the third quarter when Sack scored his fourth goal of the night. Junior Will Griffin and freshman Reid Harrison scored the only two goals of the fourth quarter as the Panthers cruised to a 20-0 win.
With the win, the Panthers set a school record for the best start in lacrosse history.
"[Mays is] a fairly new program, so we knew they would be overwhelmed," Schmidlkofer said. "We have to make sure stay focused and keep playing."
After the win against Mays on March 15, the Panthers went on to beat Northgate 18-5 the next night. On March 17, they had similar results, beating Eagles Landing Christian Academy 19-3.
After playing six games in eight days, the Panthers now have three days off until their next contest. The Panthers will look for their 11th win on the year, and tenth in a row, in Panther Stadium against Stratford Academy at 6 p.m.