Lady Panthers fail to avenge previous loss, fall 8-3 to Whitewater
On Sept. 20, the Panther varsity softball team traveled to Whitewater High School seeking revenge from their 3-1 loss on Aug. 23. Unfortunately, the Panthers lost 8-3 against the Wildcats making them 8-2 in their region and giving Whitewater the no. 1 seed for the upcoming region tournament.
"They played hard," head coach Mark Williamson said. "We're just facing a really good team and they couldn't adjust to the pitching."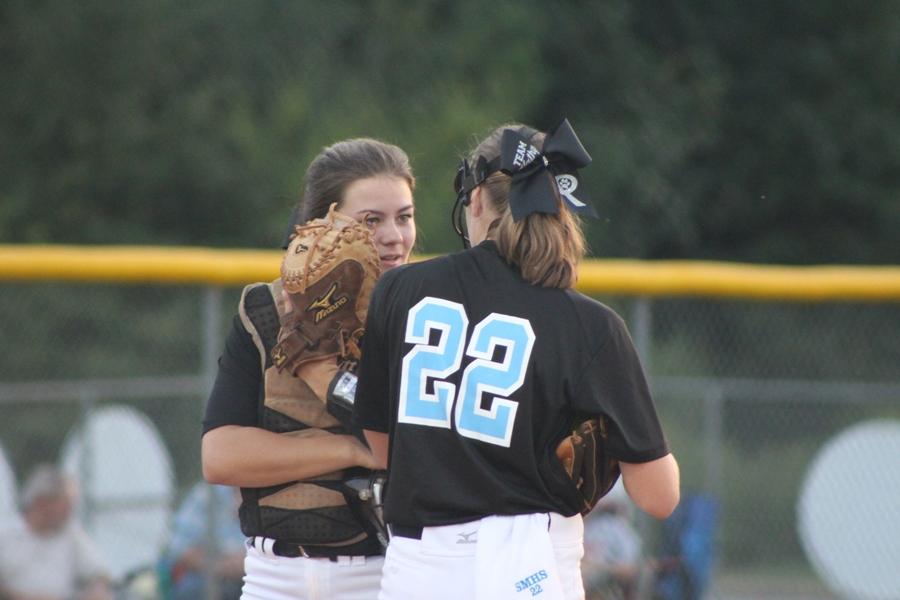 The game started with a leadoff walk from sophomore Lea Duben, who stole two bases but did not score. The second batter of the game, sophomore Kate Ashmore, was called out due to batter interference, decreasing the Panthers' chance to score in the top of the first.
The Panthers went into the bottom of the first scoreless against the Wildcats. Freshman Paige Andrews started the game, pitching 4 ⅓ innings, giving up seven hits and four runs.
"[My] changeup wasn't as [accurate] as it could have been, but my spins were fine," Andrews said.
It wasn't until the top of the fourth that the Panthers scored their first run of the game from sophomore Alyssa Angelo's RBI single driving sophomore Laura Sellers home from her previous leadoff single. Junior Jordan Childress was called out at home trying to score behind Sellers.
Junior Abby Brady was sent in to pitch in the bottom of the fifth. She pitched ⅔ of an inning in the fifth and ⅓ of an inning in the sixth. Brady gave up a total of five runs including a bases clearing triple to senior Lauren King in the bottom of the sixth. After King's three RBIs, Brady was taken out and sophomore Wakana Sato finished the game.
In the top of the sixth, Sellers hit a leadoff home run, to make the game 4-2 in favor of Whitewater. Two batters later, Childress hit a single, stole second, and scored the Panthers' third and final run of the game from another RBI single by Angelo. The Panthers scored late in the game, but their offense wasn't enough to beat the Wildcats' hot bats.
"We [have] to continue to hit the ball well and make plays," Williamson said. "We had a couple plays tonight that I felt like we could've made that would've cut down a couple runs on their part… They battled hard, Whitewater is a good team so I give them credit. They came out and played well and hopefully we'll get to see them again for a region championship."
The Lady Panthers' next game is tomorrow night at home against Fayette, another region rival. The Panthers last played the Tigers on Aug. 25 when Starr's Mill shut out Fayette 16-0. Williamson looks to start Sato against the Tigers at 5 p.m.