Starr's Mill shows out on Homecoming night
It was Homecoming at the Mill, and the Starr's Mill Panthers put on an offensive display for the huge crowd at Panther Stadium. The visiting Chapel Hill Panthers kept up during the first half, but quickly fell behind during the third and fourth quarters as Starr's Mill captured a 56-21 victory.
"Last week was the first game I've ever missed. I've never experienced that," senior running back Cole Gilley said. "I was excited to get back and play with my teammates."
"
The [offensive] line did awesome and the [running] backs were awesome."
— Senior quarterback Joey DeLuca
Gilley missed last week's game with an ankle injury, but returned with an incredible performance against Chapel Hill. It only took Gilley 12 carries to rack up 75 yards and four touchdowns. Meanwhile, fellow running back sophomore Kalen Sims ran for 80 yards and two scores on just eight attempts. Senior quarterback Joey DeLuca showcased his ability as a dual-threat player with 44 rushing yards and 97 passing yards.
Chapel Hill only totaled 268 offensive yards, 232 of them coming from the passing game. Junior quarterback Kj Burton tossed 20 passes, completing six of them while throwing two touchdowns and three interceptions. He also led the team in rushing yards, with only 24.
"We started out slow, but after halftime we all realized we had to get it done," DeLuca said. "The [offensive] line did awesome and the [running] backs were awesome."
The Starr's Mill offense received the opening kickoff and began their first drive at their own 41-yard line. After two short runs and an incomplete pass, they punted the ball to Chapel Hill. However, senior Starr's Mill linebacker Ryan Cockes made sure the Panther defense didn't stay on the field for long as he intercepted Burton's first pass of the game. Two plays later, Gilley punched the ball into the end zone for his first score of the night.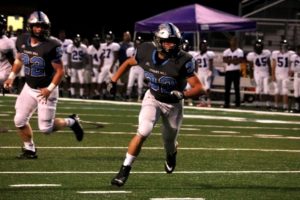 With 9:36 left in the first quarter, Starr's Mill led 7-0. Once again the Chapel Hill offense stalled and punted the ball to the home team. A shanked punt gave the Mill good field position, and after just four plays Gilley scored again. After the extra point, Starr's Mill led 14-0. However, the next Chapel Hill drive only lasted one play, as Burton connected with sophomore wide receiver Elijah Brown for a 78-yard touchdown.
"We play as a team more than any other team I've ever been a part of," Gilley said. "We play for each other, and it's awesome to see."
A missed extra point attempt held the score at 14-6, and Starr's Mill's offense returned to the field. An 8-play, 76-yard drive was capped off by Gilley's third touchdown of the night, this time from two yards out. The score was now 21-6 with 3:04 left in the first quarter.
Chapel Hill again responded quickly with a 4-play touchdown drive, as Burton found another receiver for an 83-yard touchdown. The visiting Panthers attempted a two-point conversion, and cut their deficit to 21-14.
The highlight of the next Starr's Mill drive was a 31-yard pass completion from DeLuca to senior Mitch Prowant. Two plays later, senior Nick Brown scored on a 2-yard touchdown run. Once again Chapel Hill responded with a big play. On the fifth play of their next drive, Burton and senior receiver Myles Leblanc hooked up for a 59-yard catch-and-run touchdown. The 28-21 score held until halftime.
"There was some miscommunication with the coverage," junior linebacker Michael Burnett said. "But we woke up in the second half."
There is no doubt that the Starr's Mill defense made adjustments at halftime, as the defense shifted gears and didn't allow any second half points. Chapel Hill fumbled on the first play of the second half and Starr's Mill recovered. Then, they handed the ball off to Prowant, who scored from five yards out to increase their lead to 35-21.
On the next Chapel Hill possession, they began to move the ball before Burnett picked off Burton to end the drive. DeLuca then led the Starr's Mill offense down the field once again. This time, a 5-play, 42-yard drive concluded with Gilley's fourth touchdown of the night. At the 7:15 mark in the third quarter, the scoreboard read 42-21 in favor of the home Panthers.
"The secondary was slacking a little bit," Burnett said. "But we came together and shut [Chapel Hill] out in the second half."
Staying strong, the Starr's Mill defense forced a turnover-on-downs on the next Chapel Hill drive. However, they didn't use their next drive to extend the lead. Starr's Mill punted and the away team desperately needed to score. But four plays later, a failed fourth down conversion seemed to conclude the game.
Sims scored two touchdowns throughout the rest of the game, and Starr's Mill improved their record to 3-0 on the season. Chapel Hill suffered their first loss of the season, and their record sits at 2-1.
"We have more heart [this year]," DeLuca said. "We play for each other, and that's the goal for our team."
Despite the loss to Starr's Mill, Chapel Hill's previous wins against Fayette County and Lithia Springs show this team can still produce a successful season. Up next is for Chapel Hill is Whitewater on Sept 15.
As for Starr's Mill, they take their unblemished record to Sandy Creek, who a year ago bested the Panthers 35-21. The Patriots are also 3-0, and they are coming off of a 66-0 rout of Morrow. Despite losing their top three running backs from last season, the Patriot offense hasn't slowed down, averaging over 42 points per game. The cross-county showdown begins at 7:30 p.m. on Sept. 15.