Young Panthers fall to Wildcats in tight contest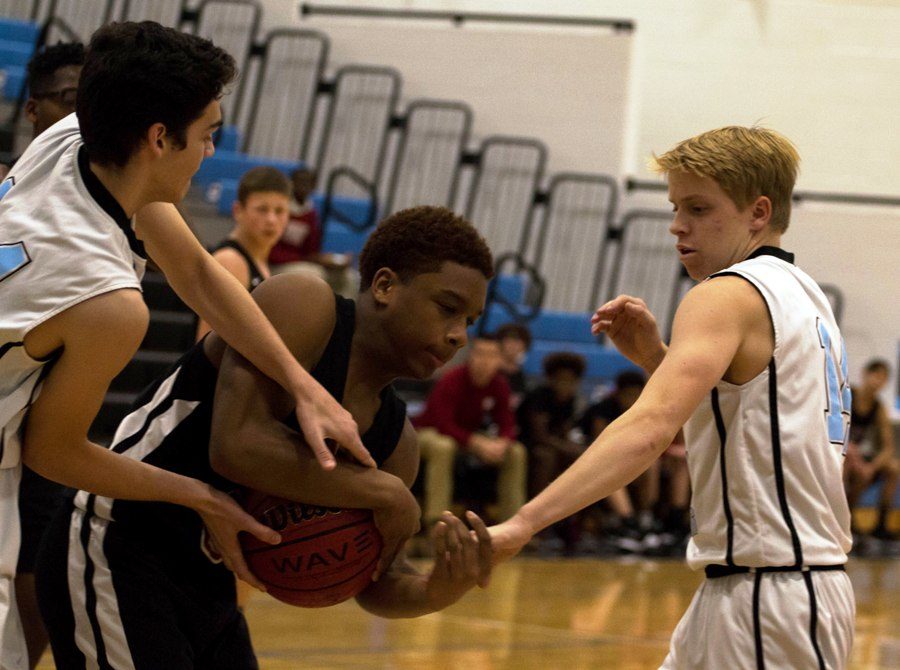 Ty Odom, Staff Writer
January 9, 2018
Following a 55-33 win over the Newnan Cougars, the freshman Panthers basketball team lost to the Whitewater Wildcats 40-38 in their first game after the semester break. The game was close from the tip-off, and despite the tremendous effort by Starr's Mill, they could not hold off Whitewater.
For most of the first half, the Wildcats held a lead over the Panthers. However, the team did not fall too far behind. They were able to to score easy layups in the paint as well as getting to the free throw line consistently. Starr's Mill played great defense, especially in the second quarter, as they were able to keep Whitewater's lead at two points, 23-21, going into halftime. Freshmen Gabe Sands and Elliott Baker led the team in first half points, scoring six points and five points, respectively.
"They played good defense in stretches," head coach Taylor Sweeney said. "We also played good transition offense."
During the third quarter, the Panthers played lock-down defense, getting two steals and two blocks, leading to easy fast-break buckets. Multiple bench players including freshman Nate Kearns contributed to the third quarter run. Starr's Mill scored 11 points while holding Whitewater to only six, gaining a three point lead.
The fourth quarter was anything but good for the Mill. The Wildcats began to score in bunches, leaving the Panthers searching for answers. The team failed to secure several rebounds, allowing the opponents to score multiple second-chance baskets. Starr's Mill managed to keep the lead until the last few seconds when Whitewater made a three pointer to gain a two point lead. The Panthers ran a play to win the game, but the pressure proved to be too much, as they missed a corner three at the buzzer. The final score was 40-38 in the Wildcats' favor.
"We weren't rebounding well," Baker said. "We were playing bad defense [in the fourth quarter]."
With this loss, Starr's Mill's record declines to 4-2 on the season. Their next game is against the Fayette County Tigers on Jan. 9 at 6:00 p.m. at Fayette County High School.
"We're going to play a lot better," Kearns said. "We will practice stronger and harder."
The team's next matchup against Whitewater is on Jan. 20 at 10:00 a.m. at home.