Panthers out to prove they can three-peat as region champions
Losing a class of 26 seniors is not easy for any team, and for most programs that marks the beginning of a rebuild. However, at Starr's Mill, the Panthers are out to prove that despite losing a large chunk of their team, they're prepared to take home the region crown for a third consecutive season.
"
I think people will be surprised when we start playing…We've been waiting in the shadows…"
— junior quarterback Hunter Lawson
"I think people will be surprised when we start playing," junior quarterback Hunter Lawson said. "We've been waiting in the shadows, but we're about to come out."
Seventeen of the 26 players that graduated were starters for the Mill. Quarterback Joey DeLuca, running backs Cole Gilley Nick Brown and Mitch Prowant, defensive stars Austin Schriver and Coltin Houser, as well as talented lineman Eric Donevant, all graduated. The Panther backfield last year racked up 3828 yards, an average of 294.5 yards per game, and 57 touchdowns. The defense forced 27 turnovers, which turned into 111 points on offense. Repeating this kind of production won't be easy, but this young Panther team is out to prove all of the doubters wrong.
Lawson and junior running back Kalen Sims will step into huge roles for Starr's Mill. Lawson replace a three-year starter in DeLuca, and Sims, along with juniors Ardit Hoti and Karsen Kalen, will try to replicate the monstrous backfield of Gilley, Brown, and Prowant.
"I always feel like I have a chip on my shoulder, being an undersized running back," Sims said. "People are always doubting me, and I just have to prove them wrong."
The Panthers opened their season with a scrimmage against Callaway. The Cavaliers went 11-2 last season and made it to the third round of the state playoffs before losing to Brooks County.
Callaway proved to be a little much for Starr's Mill defeating them 26-6 in the scrimmage.
While the young offense may have struggles, the Panther defense played well. After averaging nearly 35 points per game last year, the Cavaliers were held scoreless after the first quarter against Starr's Mill. Sophomore Wes Haney put on a show, racking up multiple tackles and making many difficult plays for the Panthers.
"We can fix mental errors, but we can't fix effort errors," head coach Chad Phillips said. "If the effort's there, we have a chance to a pretty good little football team."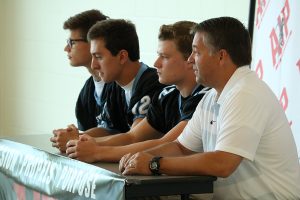 Also leading the Panther defense are seniors Michael Burnett and Sean King. King, a safety, will lead a skilled secondary while Burnett will lead an undersized, yet fundamentally sound linebacker corp.
However, if there is one area of the game that sets Starr's Mill apart from others, it's special teams. Senior kicker Michael Lantz is a key piece for the Panthers as he is one of the nation's top kickers. Last season, Lantz connected on field goals of 50 and 47 yards against Sandy Creek in the team's first win over the Patriots in 18 years. Having a weapon like Lantz will only help an already talented Starr's Mill offense.
"Our kicking game is one of the best in the state," Phillips said. "If you mix a good defense with a solid kicking game, you'll win a few [close] games."
Starr's Mill opens their season on Aug. 24 with a home game against Mt. Zion. The Bulldogs finished 1-9 last year and will look for an early season road victory to start the year.
With a young, somewhat inexperienced roster, the Panthers need an early season victory to build confidence and gain experience. The matchup will kick off at 7:30 p.m. in Panther Stadium.