DeLuca, Houser highlight long list of football honors
The Starr's Mill Panthers recently finished a stellar 11-2 season and Fayette County News took notice. A couple of Panthers earned individual awards, while multiple other panthers found themselves on All-County teams.
"It's good for our program," head coach Chad Phillips said. "It's also good for our boys to see the byproduct of hard work."
Seniors Joey DeLuca and Coltin Houser received two of the top individual honors. As the Panther quarterback, DeLuca was honored as the County Player of the Year, while Houser earned County Defensive Player of the Year after his outstanding season at defensive end.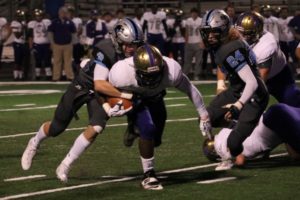 DeLuca concluded his Starr's Mill career with two region championships and three playoff appearances. This year, DeLuca threw for 901 yards, ran for 455, and totaled six touchdowns. Houser exploded onto the football scene this season with a career year. Racking up 61 tackles and 13 sacks, Houser led the Panther defense throughout the year.
"I've got to give a lot of credit to my coaches and teammates for helping me get recognized," DeLuca said. "Without them I wouldn't have been able to do it."
Phillips was also recognized as the Fayette County Coach of the Year, for the second year in a row. Phillips helped orchestrate one of the most deadly backfields in the state of Georgia while getting his team back to the playoffs for the fourth year in a row.  
Seniors Justin Sanders and Andrew Fierbaugh made All-County First Team at the offensive line position. On the defensive line, senior Austin Schriver made All-County First Team. Schriver totaled 62 tackles and 7 sacks for the Panthers this year.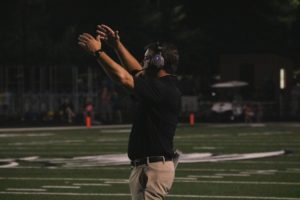 Other All-County First Teamers include senior Charlie Mizzell at linebacker, junior Michael Lantz at kicker, and senior Mitch Prowant, who was recognized as a multi-talented player.
"It's good to be recognized," Phillips said. "It's good that people realize we have good players here and good coaches who coach them."
Senior Cole Gilley and sophomore Kalen Sims both made All-County Second Team at the running back spot. Senior wideout Brandon Rew made the second team at receiver, and senior Phillip Pfaffman was honored at defensive back.
Seniors Ryan Cockes and Nick Brown also made the All-County Second Team. Brown totaled 1,253 all purpose yards and 10 touchdowns a running back. Cockes played middle linebacker for the Mill, and racked up 40 tackles and four interceptions, all while missing four games due to injury.
Seniors Eric Donevant, Awbrey Mitchell, Endrit Hoti, and Hunter Fenton were listed as honorable mentions.