Lady Panthers continue hot start with win over McIntosh
The Starr's Mill softball team is off to a blazing start this season. They opened the year with a 7-5 extra-inning win in a scrimmage against East Coweta, who finished 36-0 last year and won a state championship. They followed that up with 16-1 win over Griffin before winning the Carrollton Tournament.
"
We're making the plays we need to make and getting hits when we need them."
— Coach Mark Williamson
Their win streak continued Tuesday night at McIntosh as the Lady Panthers topped the Lady Chiefs 3-0.
"We have a good little softball team," head coach Mark Williamson said. "We're making the plays we need to make and getting hits when we need them."
Freshman Lilli Backes pitched all seven innings for the Mill and only allowed two hits on the night. Sophomore Lauren Flanders was 0-1 at the plate, but walked twice, stole two bases, and scored once. Flanders also made many great defensive plays and helped the Lady Panthers shut out their cross-town rival.
Sophomore Rebecca Muh pitched a complete game for the Lady Chiefs, and struck out four Lady Panthers. McIntosh made contact on offense, but the Lady Panther defense tracked down the ball and prevented any runs for the Lady Chiefs.
"We're kind of on a roll now and we just have to keep it up," Flanders said. "[We need to] just keep playing as a team."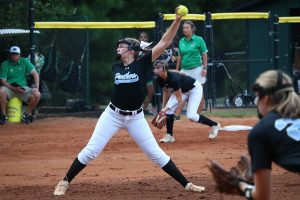 The first inning didn't display much action as Muh and Backes retired the first three batters they faced. The top of the second, however, was more entertaining. Sophomore Jolie Lester led off the inning with a line drive single to right field. Backes then laid down a sacrifice bunt to advance Lester. Sophomore Paige Andrews then laid down another bunt, but the Lady Chiefs misfielded it and Lester was able to score. The next two batters were retired and Starr's Mill led 1-0 going into the bottom of the second.
After the Lady Panthers put a run on the board, Beckes took the mound and retired the next three lady Chiefs. Muh struck out Freshman Sydney Blair to lead off the third inning, but walked Flanders right after. With senior Lea Duben at the plate, Flanders stole second base and third base. After battling with Muh, Duben finally lined an RBI single up the middle. Two batters later Lester hit a double to center field and scored Duben. The teams entered the bottom of the third inning with Starr's Mill up 3-0.
"I feel like we're playing more as a team this year," Duben said. "We have a common goal and we're playing for each other."
McIntosh once again struggled to hit as they went three up, three down once again. Muh responded in the top of the fourth inning by returning the favor to Starr's Mill. In the bottom of the fourth, senior Jenny Lyon and sophomore Savannah Moore finally recorded the first two hits for the Lady Chiefs. However, the Lady Panthers were able to get out of the inning without allowing a run.
Starr's Mill used long at-bats to wear down Muh, but the pitcher persevered and didn't allow any runs. Backes struck out the next two Lady Chief batters, then junior Brooke Burnett grounded out to second. Going into the sixth inning, McIntosh still trailed 3-0.
Neither team recorded a hit in the final two innings, and Starr's Mill held on to their 3-0 lead to remain undefeated.
"This game, we didn't hit as well as we have been," Flanders said. "If we can continue to hit, we'll be good."
The Lady Panthers play three more games this week, and will look to improve upon their 6-0 start. On Aug. 15, they travel to Union Grove, and the following day they play at home against Jonesboro. Those games begin at 5:55 p.m. and 5:30 p.m., respectively.
On Aug. 18, the Lady Panthers will visit Arabia Mountain for a double header against the Rams. The two games are at 10:00 a.m. and 12:00 p.m.