Sims, Panthers keep rolling region opponents
Following a slow start to the year, Starr's Mill has found a groove as region play is under way. After beating Jonesboro 38-6, the Panthers traveled to Griffin and defeated the Bears by the same score, avenging their 29-28 loss from a year ago.
"
[The players] deserve to be where they are now, but we can't slow down."
— head coach Chad Phillips
"We played really hard," head coach Chad Phillips said. "[The players] deserve to be where they are now, but we can't slow down."
The Panther backfield amassed 351 yards against Griffin, 145 of which came from junior running back Kalen Sims. Sims also added two touchdowns on 16 carries. Junior quarterback Hunter Lawson only threw for 29 yards, but he rushed for 37 yards and two scores as well. Junior Ben Bodne received just three handoffs, yet he ran for 89 yards and a touchdown. The Panthers played a clean game with no turnovers and only four penalties, resulting in their second consecutive 32-point victory.
Griffin accumulated 224 total yards, with 178 coming on the ground. Junior running back Aalijah King ran for 77 yards and a touchdown on 13 attempts, and sophomore quarterback Quamari Williams added 69 yards on the ground while throwing for 46. The Bears fell behind early and failed to slow down the Panther offense. Seven Griffin penalties and a turnover kept Starr's Mill firmly in control throughout the game.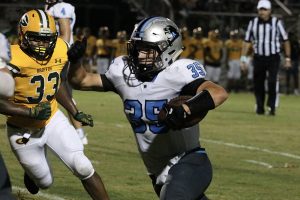 "It felt great to come out here and get a win, especially after what happened last year," Sims said.
The first possession saw the Starr's Mill offense take the field. Lawson dropped back to pass on first down and hit Sims for a 21-yard gain. The Panthers then went to run game and drove the ball down the field. They completed a 10-play, 67-yard drive on a 2-yard touchdown run from Lawson. Senior kicker Michael Lantz made the extra point and put Starr's Mill up 7-0.
Griffin opened the following drive with a run play that was shut down by the Mill. On the next play, Williams completed a 9-yard pass to junior receiver Jamoi Mays, but Mays fumbled and the Panthers recovered. The Bear defense was able to keep Starr's Mill out of the endzone, but Lantz knocked a 40-yard field goal attempt through the uprights to increase the lead to 10.
"We realized if we come out and give 100 percent on the field and 100 percent in the weight room, that we can come out here and dominate," Sims said.
The Bears began to move the ball on their following drive, as they made their way down to the Starr's Mill 20-yard line. However, when they faced fourth down, they elected to go for it and Starr's Mill forced a turnover-on-downs. However, four plays later the Panthers were forced to punt. Three plays after the punt, King broke off a 29-yard touchdown run to put Griffin on the board. A missed PAT put the score at 10-6.
The second quarter began in the middle of the next Panther drive, and Starr's Mill slowly made their way down the field. An 11-play, 63-yard drive was capped off by a 2-yard touchdown run from Sims, his first score of the night. Up 17-6, the Panther defense took the field. Griffin only gained one yard on their next drive, and they punted the ball back to Starr's Mill. Once again, the Panthers chewed clock while working their way down the field. Another 11-play drive that lasted over six minutes concluded with a 10-yard score from Sims. The score was the last of the first half, and the Mill went to the locker room with a 24-6 lead.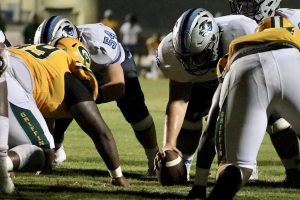 "The players bought into what we were teaching and they were tired of losing," defensive coordinator Jeff Schmidlkofer said. "The defensive coaches did a good job of preparing the players."
The second half opened with punts from both teams, and with 9:31 left in the third quarter, Griffin's offense was on the field. They picked up a first down during the series, but ultimately had to punt again. Starr's Mill took over and looked to extend the lead. They did so quickly, as after two plays lost yardage, Sims broke off a 24-yard run, and Bodne followed with a 58-yard touchdown run.  
Griffin once again picked up a first down, but failed to do much after. They attempted another fourth down conversion but the Panther defense denied them a fresh set of downs. Starr's Mill milked away the clock on their next series, a 7-play, 70-yard scoring drive. The drive featured a 28-yard run from sophomore Cole Bishop and a 22-yard run from Sims. However, it was Lawson who found the endzone on an 8-yard scramble to the endzone.
Griffin punted on their following series and the Panthers then drained out the clock, securing the 38-6 victory. The Bears struggled to find a groove on offense and suffered their first double-digit loss to Starr's Mill since 2010.
"Our goal since January has been to win three consecutive region titles and make five consecutive trips [to the state playoffs]," Phillips said. "It's right here in our palms and we just have to grab it and run."
The Bears are now 3-4 this year, and 2-1 in region play. They face Jonesboro (3-3, 1-1) on Oct. 5 and will look to bounce back from their blowout loss to the Mill.
Starr's Mill (3-3, 2-0) extended their 6-game win streak against region opponents, dating back to last season. Up next for the Panthers is Whitewater (0-6, 0-2) who is seeking their first win on the year. They'll attempt to do so while also avenging their 43-21 loss to the Mill last year, and the Panthers will continue on their path to a third consecutive region championship.
The contest between the two rivals is at 7:30 p.m. on Oct. 5 at Whitewater High School.