JV boys breeze past Chiefs in Battle of the Bubble
The JV boys basketball team's second game of the season will go down as a win as they beat McIntosh 51-41 Tuesday night.
The Panthers thrashed McIntosh in the paint possession after possession, always following shots and grabbing numerous offensive rebounds.
"We've just gotta do a better job of organization and running our plays," head coach Sweeney said. "I'm really proud of where they are for being in our second game."
Junior Camden Sutherland contributed just over a third of the team's points as he put up 19 points and four assists. The Panthers held their lead through all four quarters.
The Mill did a great job of playing aggressively in the low post, driving towards the basket and not fearing contact. Starr's Mill led 25-13 at halftime.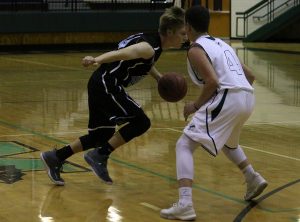 "I just got out there and it just started clicking," Sutherland said. "I was making shots and I just kept playing my game."
Immediately after the start of the third quarter, junior Sam Handel casually sank a three-pointer directly in front of a defender. However, the Panthers would come dangerously close to losing their lead mid way through the fourth quarter. The Chiefs went on a shooting streak coming within just three points of taking the lead.
Both teams would put up a tremendous fight on offense but it wasn't enough for the Chiefs. In the final minute of the game the Panthers would put some space between them and the Chiefs, increasing their lead to ten points, just enough to get them across the finish line at the buzzer and claim the 51-41 victory.
"With ninth grade and JV we like to run the same stuff that varsity does," Sweeney said. "The goal isn't necessarily to win, it's to get kids ready to play varsity."
The 9th grade boys' team took the court next against the Chiefs. McIntosh had a tremendous advantage in height, helping them claim a 47-30 win.
McIntosh controlled the boards both offensively and defensively and controlling the paint. Despite the height disadvantage, the Mill held their own through the first two quarters with the Chiefs in the lead 23-18 at the break.
McIntosh shut out the Panthers in the third quarter, increasing their lead to 19 points. Despite outscoring the Chiefs in the final quarter, it wasn't enough to get the win. At the buzzer, the scoreboard showed 47-30 with McIntosh on top.
Neither team plays at home until after Christmas break. Both teams host Fayette County High School on Jan. 8. JV begins at 4:45 p.m. with 9th grade following at 6 p.m.