Missing players create on-court miscues
Adjusting to injuries proved to be tougher than either opponent Starr's Mill faced last Tuesday as they hosted Harris County and Heritage.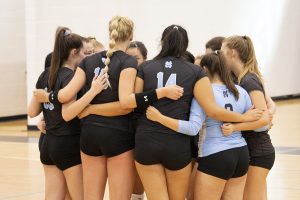 Throughout the games, they struggled with communication as they worked to compensate for five missing players lost due to injuries and illnesses. After some early communication miscues, the Lady Panthers defeated Harris County 2-0 (25-21, 25-14), but lost to Heritage 2-0 (25-18, 25-21).
"We had fifteen players, and today we are at ten," senior Kayla Sloan said. "It's been kinda rough because we don't have our starting six, and we're missing two of our starting players."
Game one against Harris County started out with both teams keeping the score even until Harris County scored four straight points, increasing their lead to 11-7. Starr's Mill kept the match close on short points. However, during the longer volleys, Harris County exposed communication errors, resulting in the Panthers falling behind. 
"It was kinda tough in the beginning but then I think we finally figured it out," senior Tessa Laney said. After a late-game timeout, the girls managed to catch up and defeat the Tigers, 25-21.
In the second game, the Panthers came out strong and stayed on top of the lead despite minimal playing time from sophomore Nicole Smith and junior Ashlyn Mercure. Improved communication resulted in a 25-14 Starr's Mill win.
"The second game we started meshing better together learning what worked and what didn't and learning to trust each other in our positions," Sloan said.
In the second match of the night, Starr's Mill faced a bigger challenge in the Heritage Jayhawks.
In the first game, the Lady Panthers started off strong but Heritage was up to the challenge winning 25-18. In game two, the Starr's Mill kept the score close to even. However, several unforced errors handed the visiting Jayhawks the 25-21 win. 
"The main focus is, once again, communication, team chemistry, continuing to fight and play for each other," head coach Jason Flowers said.
Starr's Mill bounced back tonight with commanding wins over Troup County 25-9, 25-9, and Dutchtown 25-10, 25-16. The next home matches are scheduled for Sept. 3.