Starr's Mill paces other Fayette County teams in AT&T Panther Invitational
Starr's Mill cross country has picked up right where it left off at the end of last season, proving that the Panthers are a force to be reckoned with. 
The Panthers hosted the 8th Annual AT&T Panther Invitational this past weekend at Heritage Christian Church. As a team, Starr's Mill girls finished 2nd in a field of 18 teams, while the boys' team finished 3rd among 31 teams. Schools from throughout Georgia and Alabama competed in the county's largest meet of the season.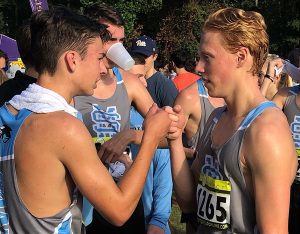 Starr's Mill proved their strength with multiple top-30 finishers for both programs. 
For the girls, junior Darby Olive placed 10th with a time of 19 minutes, 36.58 seconds, placing the highest among all Fayette County runners. Freshman Hailey Ross placed 12th with a time of 19:44.36, and junior Allie Walker placed 26th with a time of 20:42.3. Senior Erin Fagens from Landmark won the varsity event with a time of 18:18.53.
For the boys, Landmark junior Zack Truitt led all runners from Fayette County, finishing third with a time of 15 minutes, 52.26 seconds. Junior Joseph Muzillo finished highest (11th) on the Starr's Mill team with a time of 17:07.70, while senior Seth Miller placed 14th with a time of 16:54.89, and junior Colton Olvey placed 23rd with a time of 17:07.70. Senior Devin Wade from Whitefield Academy won the boys' varsity event with a time of 15:24.60
As for other Fayette County schools, McIntosh finished ninth in the girls' race and 24th in the boys'. Whitewater girls came home 11th, and the boys finished 16th.
The next race for Starr's Mill is this Saturday at the Carrollton Orthopedic Invitational in Carrollton, Georgia.