Victory in unity
Starr's Mill softball puts together back-to-back comebacks to defeat Thomas County Central, advances to round two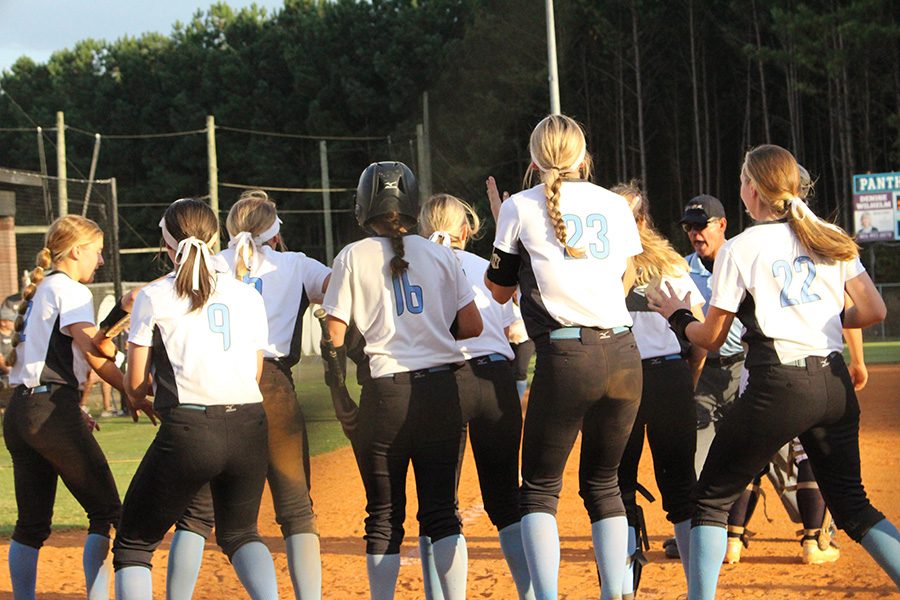 After a tough loss to Whitewater in the region championship, Starr's Mill began their run to a state championship last Tuesday. They hosted round one of the state playoffs against the Thomas County Central Yellowjackets.
In both games, Thomas County Central looked liked they had everything in control. However, Starr's Mill came back from multi-run deficits in each game to sweep the Yellowjackets 10-5 and 10-7.
"
[The team] talked about making some adjustments. Some of them listened and made the adjustments, and it paid off."
— head coach Mark Williamson
"Early on we weren't hitting so well," head coach Mark Williamson said. "[The team] talked about making some adjustments. Some of them listened and made the adjustments, and it paid off."
The hitting for Starr's Mill was on fire. Only one out of the ten Panthers that were at bat did not get a hit. All nine of those other players got two or more hits.
Junior Lauren Flanders went 8-9 at the plate and hit two RBIs. Junior Jolie Lester went 5-9 with three RBIs including a two-run home run, hitting three home runs in five games. While sophomores Sydney Blair and Sarah Latham went 3-9 and 3-8, respectively, both of them hit home runs that changed the tone of the series.
"We have that unity," Lester said. "Having Lauren sitting on top of our lineup can set the table for us and get that momentum going."
Game one started with sophomore Lilli Backes once again on the mound to pitch for Starr's Mill. She began the night with a three up, three down and one strikeout. For the Panthers, the top of the lineup was able to get themselves on the bases, leading to a Backes single RBI to take the first lead of the series.
They did not get anything together after that. After a flyout hit by senior Reagan Turner, the first inning ended with a score of 1-0 Panthers.
At the top of the second, Thomas County Central went on a rampage, racking up hits that led to a single RBI by junior Morgan Kirkendoll. Shortly after, senior Cyndel Waters got in the action with a single that scored two runs, followed up by another run scored courtesy of a double by sophomore Emily Hobbs.
"I don't know if [the team] was just nervous," Williamson said. "They settled down though after [the second inning] and played pretty good defense."
Through that inning Backes was not putting up the numbers she usually does, causing the team's fielding to back her up. Even after putting an end to the Yellowjackets' hot streak, Starr's Mill could not make something happen. The second inning ended with a 4-1 Yellowjackets lead.
Thomas County Central was prevented from causing any more damage, and Backes went back to looking more like herself again. Lester was able to get to home base despite senior Paige Andrews getting out. Later in the inning, Latham hit a single RBI to bring Turner in for a score to shorten the Yellowjackets' lead to 4-3.
While Thomas County Central tried to get something together at the top of the fourth, they were ultimately stopped by the Panther defense. Lester hit an RBI, then Turner later hit a two-run RBI, followed up immediately by an RBI by sophomore Ashley Sikes.
Immediately following Sikes' RBI, Latham hit a three-run home run to cap of Starr's Mill's scoring tirade. Starr's Mill came out of that inning leading 10-4. 
"I think [coming back] was still a team effort," Latham said. "It gave us that momentum moving in to the rest of the game."
Senior Jesse Chastain of Thomas County Central was able to score off freshman S.J. Whigham getting tagged out, but other than that the Panther defense shut down the Yellowjackets offense for the rest of the game. Starr's Mill won game one by a final score of 10-5.
Lester started the scoring in game two with a single RBI. With Andrews now on the mound for Starr's Mill, Thomas County Central answered back later on with a double RBI by freshman Gabrial Miles to bring the Yellowjackets ahead. The score was kept at 2-1 Thomas County Central until the third inning.
A single RBI courtesy of Kirkendoll as well as a double by freshman Cloey O'Doniel that scored three runs, at the bottom of the third, widened the gap. A single RBI from junior Alex Lombardo was all the Panthers could muster up at the top of the fourth.
"All we could do was hit," Flanders said. "So we were going to have to hit."
Sophomore Kaylee Barrett proceeded to increase the lead with a groundout that brought Waters in for a run. At the top of the fifth, Lester shortened the Yellowjackets' lead with a two-run home run. The Yellowjackets did not answer back, ending the fifth inning with a score of 7-4 Thomas County Central.
Hitting for the Panthers was on full display during the top of the sixth. With Lombardo and Turner on base, Flanders started a scoring onslaught with a triple that scored two runs. Immediately after, Blair, who had been struggling all night, hit a pitch into far right field to bring Flanders in. Blair was also able to run in for an inside the park home run to give the Panthers the lead.
After Lester was walked, Backes hit a double to bring Lester in for another score. Andrews capitalized with a single to bring Backes in. The Panthers came out of the top of the sixth with a 10-7 lead.
"It definitely is nice having [Flanders] always on base," Blair said. "I wasn't hitting the best in the beginning, but I knew I had to stay up for the team."
Though Andrews' pitched a strong game that included six strikeouts, Backes came in for the bottom of the sixth, stalling Thomas County Central's offense. She added three more strikeouts to give her six total on the night. 
Starr's Mill finished the game with a 10-7 victory, sweeping the Yellowjackets to move on to round two. On the other side of the bracket, Kell defeated Arabia Mountain 7-1 and 6-3.
"Just one more round trying to make it to Columbus," Williamson said. "[Kell] is going to come ready to play, so we have to come out and battle."
The Panthers will stay at Starr's Mill for round two of the state playoffs against Kell. The series begins with a doubleheader on Oct. 15 starting at 5 p.m. If necessary, game three will be played at 5:30 p.m. on Oct. 16.