Lady Panthers avenge early-season loss to Lady Chiefs, secure spot in region championship
Starr's Mill went into last week's region game against McIntosh vying for the number two seed in region 2-AAAAA. The Lady Panthers walked away with a 5-0 win and redeemed a 4-2 loss to the same Lady Chiefs team to begin the season.
"We really just needed to win this game and secure the two seed, and I mean we owed them," junior Lilli Backes said. "They beat us last time, and we needed to come back and beat them."
Backes faced 23 batters in seven innings, striking out 13, and only giving up three hits and walking zero batters. She helped the offense with two RBIs, including an RBI double in the bottom of the third. 
Senior Jolie Lester went 2-for-3 with two singles, two RBIs, and two runs scored. Junior Sydney Blair added two singles, one steal and a strikeout, and scored a run in the fifth.
"After last night we had a tough loss," Lester said. "I think we came out with a better mindset of just getting the job done and doing what we had to do just to win."
McIntosh pitcher and University of Georgia commit Rebecca Muh put up quite the effort throwing eight strikeouts and giving up seven hits. 
Backes struck out the first batter of the game. The next two outs were assisted by the infield. In the bottom of the inning, senior Lauren Flanders and junior Sydney Blair both scored after bunting to get on base. Lester's single brought home Flanders, while a sacrifice flyout by Backes scored Blair. A groundout by junior Ashley Sikes and a strikeout by junior Kalin Blinstrub ended the inning with Starr's Mill up 2-0.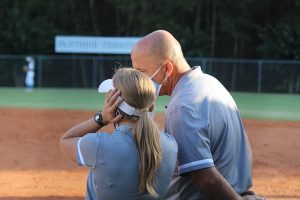 McIntosh began the second with a base hit. A groundout moved the runner to second, but Backes shut down any further threat with back-to-back strikeouts.  The bottom of the inning included a  fly out and McIntosh's Muh tallying two strikeouts.
Two more strikeouts helped an easy three up, three down top of the third for the Lady Panthers. An RBI double from Backes scored Lester and increased the lead to 3-0 to complete the third. 
Neither team could muster any offense in the fourth inning.
Backes struck out all three batters to begin the fifth, increasing her total for the game to 11. While Starr's Mill added two more runs to the lead in the bottom of the inning. After being hit by a pitch, freshman Hope Delaney stole second. A single by Blair moved Delaney to third. Lester then notched another RBI with a groundout that scored Delaney. Looking to squeeze an out, Muh intentionally walked Backes to load the bases. But a throwing error with Sikes at the plate allowed Blair to score from third and increased the Lady Panther lead to 5-0.
Each team could only hit a single apiece in the final innings of the game, securing the Starr's Mill win and helping the team advance to the region championship.
"We didn't play well last time we played against [Whitewater]," head coach Mark Williamson said. "Hopefully, we'll come out and play better."
Starr's Mill plays at Whitewater for another revenge series tonight at 5 and 7 p.m. A third game, if necessary, will be played Wednesday. When these two teams last met on Sept. 10, Whitewater won 13-0 and 7-2. Regardless of how the best-of-three series ends, both teams have secured playoff spots.