Leading off with promise
Baseball team strengths on full display against North Forsyth
Coming into a baseball season with five Division I commits is the stuff that dreams are made of. For Starr's Mill, it is a reality. 
In their home opener against the North Forsyth Raiders on Tuesday, the Panthers exercised their might in an 11-1 victory in five innings.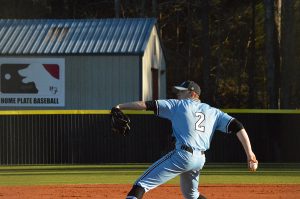 Boasting new uniforms, Starr's Mill only needed one inning to score six runs and effectively take over the game. Their formula began with senior pitcher and South Carolina commit Eli Jones only allowing three hits on the day. Jones played the game as part of the rotation in preparation for their first region game against Harris County next week.
"We've got a tough schedule coming up, so it's good to get a little confidence under our belt," Jones said. "It was a good little confidence booster [for me]. I wasn't feeling 100%, didn't throw 100%, but I think I'm ready [for Harris County]."
If the Panthers need another pitcher on the mound, that is no problem. They have two seniors, UNG commit Daniel Courtney and Georgia Southern commit Declan Dun, backing Jones up. Those three alone provide a strong bullpen to rely on for the Panthers
Efficient fielding all around supported Jones. Not only were they reliant on routine groundouts, but there they put together some great plays, including when senior outfielder and Wofford commit Chay Yeager threw a hit ball from right field to first base for an out just in time. Their athleticism in tandem with fundamentals carried them through the day.
On the offensive side, the Panthers have more than enough weapons to work with. Leading off they have senior South Carolina commit and MLB draft prospect Thad Ector, who can hit a baseball exceptionally well. Not to mention juniors Ben Moseley and UGA commit Josh Tate, and seniors Yeager, Jones, and Flagler commit Ryder Wagenknecht who also had great hits against North Forsyth. All they needed were 12 hits to score 11 runs in five innings.
"When you score six [runs] in the first, that's really hard to recover [from]," Ector said. "We just kept putting [pressure] on them during the game and we played really well. We got a good start at them… We had a good offense especially from the bottom of the lineup… so it was a good offensive win today."
One inning was all the Panthers needed to go up by six and put the pressure on North Forsyth. It worked. Even though the Raiders made some adjustments to try and throw some dents in the Panthers' lead, Starr's Mill was superior in every way. They had the control minus an error and a couple mistakes late in the game.
Most importantly, Starr's Mill is putting up this kind of performance against a top ten team in AAAAAAA. With everything they have coming together, they have potentially the most promising roster in the program's history.
"We played much better today than we had been playing," head coach Brent Moseley said. "We have a lot of good players. We just got to continue to work at it and get better."
Last night, the Panthers fell to North Oconee 8-2. Following a double header at McEachern on Saturday, Starr's Mill will host a tough Harris County Tigers group next Tuesday. The first pitch is scheduled for 5:30 p.m.