Checkmate
Coming into last Tuesday's game, the varsity boys soccer team had won three matches in a row.  The streak continued in a 2-1 victory over Marist. 
Seniors Brooklyn Muccillo and Jake Eubanks scored for the Panthers. Sophomore Camilo Velez was credited with one assist. 
Senior Alex Meyerhoff was the lone goal scorer from Marist High School.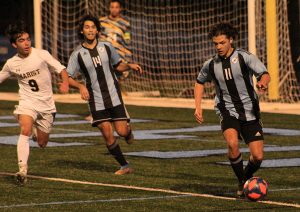 "Through the course of the game adjustments are made so we were having some success," head coach Aaron Buck said. "They adjusted, then they started having little success, then we adjusted. It's a cool little chess game between the coaches throughout the game."
In the beginning of the first half, Starr's Mill had control, keeping the ball between midfield and the opponent's side, getting more chances at the goal resulting in two goals. 
The first goal came in the 13th minute when Velez assisted Muccillo. Eight minutes later Eubanks increased the Starr's Mill lead to 2-0 after a handball penalty gave the Panthers a free kick.
Marist started adjusting and penetrating the defense. The changes paid off in the 25th minute when Marist Meyerhoffer scored, reducing the lead to 2-1. 
Through the rest of the first half both teams were evenly spread across the field. 
"We just broke them down well, we made space, we got out wide, and we were able to just break them down," Eubanks said. 
Going into the second half there was way more back and forth between the teams. Marist got fewer chances at the goal than Starr's Mill but could not make the shot. Wrapping up the game Starr's Mill controlled the ball and secured the win 2-1. 
"We're treating every game the same right now. We're looking to [region play], but we still have Newnan on Friday," Muccillo said. "We're definitely looking forward to [region] since there's so many region games in so little time. We need to get off to a good start."
Starr's Mill plays against Newnan away Friday night winning 5-0. Region play begins as the Panthers travel to Northgate to play the Vikings tonight at 8 p.m.