Getting the swing of things
Baseball team on track to solving problems in win over Northgate
Despite the overwhelming promise shown in the early season, McIntosh exposed flaws within the Panther baseball team. The past week has been one of ironing out the kinks of their team. For now, they have been improving their team, as evident in their 7-1 win over the Northgate Vikings last Friday.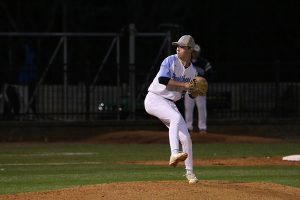 Errors have been a major issue holding the team back this season, and they have been working on finding a solution. They have been trying out different lineups over the past week. On Friday, they added freshman Heath Whitlock and junior Andrew Peters to the mold to see how they fit.
"It's been good trying to figure out where people are good at playing, who gets the jobs done and who really wants to play and show out for us," senior Chay Yeager said. "[Shifting rosters have] been good for us."
Senior pitcher Bryson Daniel and the fielding group paved the way for a good night with a three-up, three-down to start the game. Seniors Thad Ector and Daniel Courtney got base hits and senior Sean White got hit by a pitch to load the bases. Yeager hit a sacrificial groundout to bring Ector home to get the Panthers on the scoreboard 1-0.
Senior Eli Jones hit a double to clean the bases and bring the Panthers up 3-0. The score would remain the same until the third inning when Yeager hit a solo home run and Peters batted in two more runs, giving the Panthers a 6-0 lead.
Their lead would stand through the fifth inning as junior Ben Moseley tacked on another run to go up 7-0. Starr's Mill was not able to close the game out by mercy rule in the fifth or sixth inning. Daniel grew tired in the seventh inning and ended the game with seven hits given up, two strikeouts, and zero runs given up. Senior Declan Dun relieved for Daniel.
"It's great to step up for the team," Daniel said. "[I take away] a lot of confidence. It's a good confidence booster for me and the team, and just glad we got the win right there."
Northgate scored a run off of a sacrificial out at the top of the seventh. The Panthers tallied three errors in the inning. However, a quick flyout to centerfield wrapped up the contest, Starr's Mill winning 7-1.
"[Playing well requires] a mentality that it's important enough to you that you got to do all the little things right," head coach Brent Moseley said. "We got to rest this week. We had a rough, long week this week. We just got to rest and get our bodies ready to go."
Starr's Mill now improves their region record to 6-2. The issue with errors still nags the team as a point of concern. The team is set to embark on a major road trip these next few days. They will play four away games in four days.
They kicked off their road trip last night with a 7-3 win over Houston County. Tonight, they travel to Pike County to play at 5:55 p.m., and tomorrow they head to Griffin for a region match against the Bears at 5:30 p.m. They end the road trip at Whitewater, where Whitewater looks for revenge from their come-from-behind loss a couple weeks back. The first pitch is scheduled for 7 p.m.