Taking a hit
Starr's Mill loses to Sandy Creek 37-16 in final game before region play
The Panthers kept pace with Sandy Creek through the first half of last Friday's game, but ultimately the high-powered Patriot offense sealed the win 37-16.
"[W]e lost some good players [to graduation], we knew it was going to be a process, and we're still going through that process and that's what these first four games are about," head coach Chad Phillips said. "[Sandy Creek is] a playoff team, Union Grove's a playoff team, Newnan High School is a playoff team. We have to focus on what we can do to improve, and we will."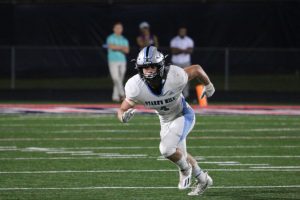 Starr's Mill and Sandy Creek seemed evenly matched through the first half. 
The Panthers used a pair of running backs to drive the ball down the field. In the first quarter, Starr's Mill went 66 yards in 17 plays. Rushes by sophomore Anderson Cardoza eventually helped set up junior Greigh Joseph for a 1-yard touchdown run. 
Starr's Mill had a similar scheme in the second quarter when they went 57 yards in 10 plays for another touchdown. This time it was Joseph for five yards and the score. On the night, Cardoza rushed 12 times for 66 yards, while Joseph ran 13 times for 53 yards and two touchdowns. 
"Right now I really try to focus on my blocking a lot because I know I have to be there to let Brandon [Mathis] and Greigh [Joseph], who are great, run the ball when they need to," Cardoza said. "I really try to do as good as I can running the ball, but I really try and get my blocking as best as possible."
Sandy Creek responded with their passing game. In the first quarter, they completed two passes to score a touchdown, using up only 15 seconds of game clock. In the second quarter, junior Gemiere Latimer would throw for another touchdown. Latimer went 14-for-22 for 288 yards and three touchdowns in the game. 
"We really stress the fundamentals and make sure we're really sharp with everything that we're doing. Pass protection on offense needs to be improved, [and] staying on blocks a little longer," Phillips said. "We made some strides tonight on fundamentals, but there's a lot of stuff we can clean up and be sharper on."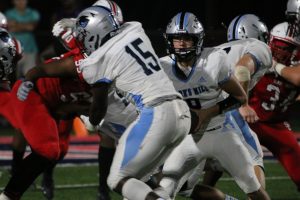 The team were tied at 16 going into halftime. 
After another passing touchdown from Latimer to senior Miles Thorton on their opening drive of the third quarter, Sandy Creek turned to the run game. Javon Harris scored two touchdowns in the fourth quarter. Harris rushed 18 times for 117 yards in the game.
The night ended with Sandy Creek winning 37-16. 
"I've seen that our line is improving, so our improvement in the practice during the week is our strong suit," Joseph said. "We keep getting better every week so hopefully for region play we're good enough to win." 
The Panthers have faced a variety of game scenarios to begin the season starting with a win against Newnan 28-14 and then blowing out Mt. Zion 53-0. The last two games have been the opposite with a close loss to Union Grove 21-14, and a big loss against Sandy Creek, 37-16. 
"I've learned this team's got a lot of character to it, and they will play hard. They'll never quit, and they want to be successful, and that goes a long way to being successful in life," Phillips said. "If you have a burning desire to be successful, I think these guys want to and our staff wants to. We'll go back to work with meetings and film and practice and doing what we do."
Starr's Mill will use a bye this week to prepare for the first region game of the season against Harris County. The Panthers' journey for a sixth-straight region title begins at Harris County on September 24. Kickoff is set for 7:30 p.m.