Load the bus
Lady Panthers sweep Jackson County, head back to Columbus
After a two-game sweep of Locust Grove, the Lady Panthers looked for another win against Jackson County in round two of the GHSA state playoffs. Courtesy of a quick lead in game one and a home run in game two, the Panthers swept Jackson County 7-0, 5-2 and advanced to Columbus.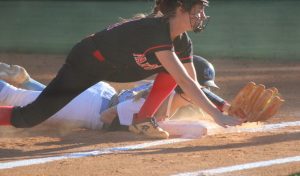 "Usually a lot of times if we get ahead we might lay down and stop playing hard like we're supposed to," senior third baseman Julia Cliff said. "This game we kept playing [at] full speed."
The Lady Panthers began game one by jumping out with a 2-0 lead. With another two runs earned in the bottom of the third, the Panthers maintained their 4-0 lead until the sixth inning. 
With help from senior pitcher Lili Backes, sophomore second baseman Hope Delaney stole home. Once senior first baseman Kalin Blinstrub hit, the path to home was open, letting senior right fielder Jill Pfister and senior center fielder Sydney Blair score. 
Game one ended in a 7-0 Panther victory. In the game, Backes gave up two hits and two walks while striking out 19 batters.
"It was exciting to play our last home game here because we weren't sure if we would with the region ending," Backes said.
Game two against Jackson County started out slow until the second inning where senior third baseman Sarah Latham hit a home run. Along with another score by senior catcher Ashley Sikes, the Lady Panthers ended the second inning 2-0.
They stayed 2-0 until the fourth inning where they had a chance to score with bases loaded, but no runs were earned. At the bottom of the fourth, Jackson County slipped by Backes and gained two on base. Backes later gave up one walk, allowing Jackson County the chance to score with bases loaded.
"I think we battled hard," Sikes said, "Even when they came back, we didn't let that get us down."
With the bases loaded in favor of Jackson County, they were able to score two runs, leaving the final score at the end of the fourth 3-2 in Starr's Mill's favor. 
In the top of the sixth inning, Delaney and junior left fielder Emily Quina got on base. With a hit from senior outfielder Sydney Blair, Delaney and Quina were able to score, increasing the Lady Panther lead to 5-2. 
Backes struck out the final three batters in the bottom of the seventh to seal the victory, 5-2. 
"You become a varsity coach back in your hometown and [are] able to go to Columbus," first-year head varsity softball coach Peyton Dean said. "Some coaches never get to go to Columbus, so it's pretty awesome to get to go."
With a two-game victory over Jackson County, the Lady Panthers will travel to Columbus to play in the double-elimination championships. Their path to a state championship begins at 3 p.m. on October 28 against Woodland.