Panthers fall to rival McIntosh, remain winless in region play
After a back and forth first half against county rival McIntosh, Starr's Mill struggled to keep pace, falling 61-52 to the Chiefs.
"We can attack [the zone] a lot more, get drives in there and start to kick it out," senior Evan Courville said. "I think on the defensive end we started playing man and the ball pressure really affected their guards."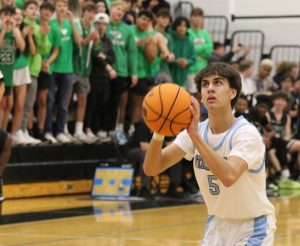 For the Panthers senior Evan Courville carried the scoring with 23 points. Fellow senior Ethan Scarbourgh contributed 13 points.
Scoring was evenly distributed throughout the Chief team. Senior Emeka Iloh scored 15 points, and junior Brandon Cheri added 11 points. 
"We got to get mentally tough, maybe we need to simulate some crowd noise or something," head coach Joshua Reeves said. "They are good shooters, in practice they make them, and the game, for some reason, they don't, so we're going to figure out how to get that better."
In the first half McIntosh's offense was hard at work, pulling down rebounds and earning second chances. Starr's Mill struggled on defense, allowing easy points in the paint. The Panthers started to regain momentum late in the half. McIntosh led 28-24 at halftime.
In the second half, the Chiefs held their lead while the Panthers continued to struggle on defense. Starr's Mill nearly made a comeback in the fourth quarter, but it was not enough as the Chiefs won 61-52. 
"I think our press could've been a little bit better," junior Jeremiah Williamson said. "I think we did good. They just made more shots than us." 
Starr's Mill traveled to Griffin on December 10 and lost 57-55. The team's next game is against Paideia at Fayette County High School on December 18. Tip-off is set for 2:30 p.m.