Actors put lives on hold for spring musical
Every spring, students stream into the Willie Duke Auditorium, eager to see the annual musical. But few truly understand the amount of work that takes place behind the scenes. Since the beginning of December, a lengthy audition process and grueling daily rehearsals have prepared the cast members for the moment when the curtain rises on opening night.
This year, the students will perform "Legally Blonde" on March 11, 12 and 13. Drama director David Klein cast junior Olivia Perry and junior Kade Smith as the musical's leads, Elle Woods and Emmett Forrest.
Though the leads have more dialogue to learn, they attend the same rehearsals as the full cast. Daily rehearsals run until 6 p.m. on most weeknights from 9 a.m. to about 4 p.m. on Saturdays. "We all work together," Perry said.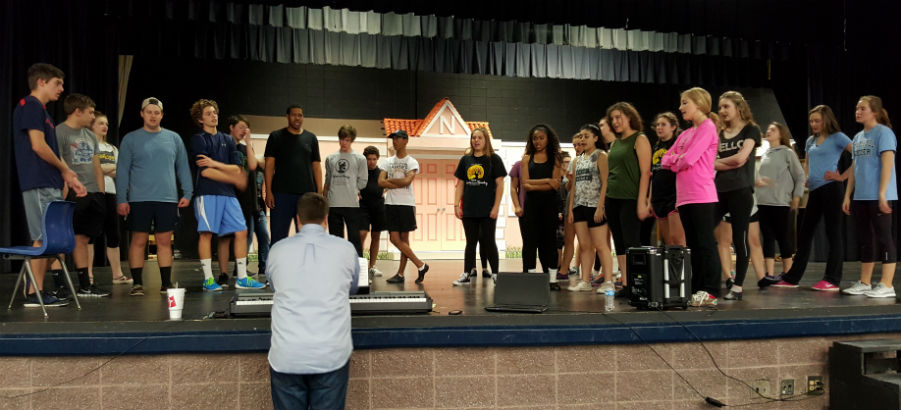 When the directors want to focus on a lead's part, the rest of the cast take the opportunity to practice on their own. "When we're not working on something else, we're practicing choreography," senior and ensemble member Anna Hall said.
These rehearsals are a true test of the students' endurance. Because "Legally Blonde" is a musical, it requires students to practice and perfect their acting, singing and dancing.
Junior Avery Grillo, who plays Harvard student Enid Hoopes, starred in last semester's production of "Shooting Stars" and immediately noticed these difficulties that come with performing a musical. "You have to deal with singing and dancing," Grillo said. "Everything's bigger [than a play], and there's a lot more prep and multitasking for the actors."
Beyond the physical aspects, the rehearsals also test the cast's time management skills. "We never know when we're needed until the day of," freshman and ensemble member Clarence White said.
Because of this, students have to keep their schedules open most days to be prepared for rehearsals. "We can be told at any time that we have a choreography rehearsal after school and have to dress out," Hall said.
For White, preparing for the rehearsal schedule included making some significant sacrifices. "I used to be the assistant drama teacher at Kedron Elementary School," White said, "but I had to quit my job for 'Legally Blonde' because the rehearsal schedule is so hectic."
White's story resonated with many members of the cast. "Until the musical is over," senior and ensemble member Dominique Dawson said, "I'm basically broke. Right now, I'm only working weekends at Partners Pizza, so I only make a fourth of what I used to make."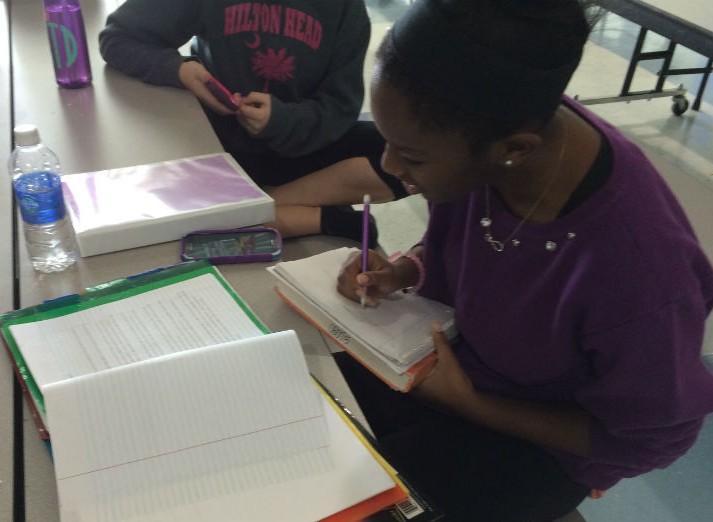 Other students had to completely alter their extracurriculars. "I used to dance at Georgia Company of Dance," Hall said, "but I had to quit to make time for all of our rehearsals. Dancing is everything to me and I miss it a lot, but I think it's all worth it in the end."
And other actors seem to agree with Hall. "The end result is fantastic," Dawson said. "Those two hours when we're on stage are priceless."
The same sentiment is held by those working behind the scenes. For senior drama student and co-stage manager Emily Louis, the final performances are particularly fulfilling. "I do stage crew, but I also act," Louis said, "and I've found that doing both helps you appreciate theater more. When you see the end product, you know that everything– the props and the lighting– all came from somewhere."
In terms of the workload, Louis and her fellow stage manager, junior Jordan Bobbitt, feel lucky to be working as a team. "The cast is really large this year, so we knew we didn't want just one person to have the burden of the job," Louis said. "It's been difficult, but it's definitely less stressful since Jordan and I are working together."
Before they could begin the rehearsal process, the drama department held auditions on Dec. 11 and 12. Dance and vocal workshops in the preceding weeks helped familiarize students with their audition material.
Everyone learned the "Legally Blonde" dance routine, but when it came to singing, the actors split up. The girls practiced with the musical's opening number, "Omigod You Guys," while the boys learned "Serious."
While most students enjoyed the numbers, performing in front of a group was stressful for some. "I like the music," senior and ensemble member Danielle Johnson said, "but I just hate singing by myself."
Johnson wasn't the only one feeling the pressure of auditioning. "This kind of determines spring semester of my senior year," Hall said, "so I [was] really nervous."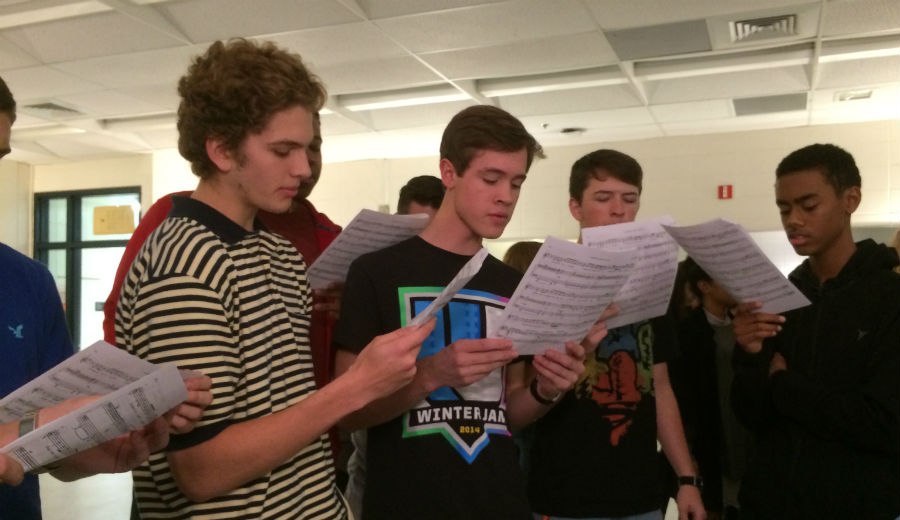 The musical director of "Legally Blonde," Zachary Stutts, tried to help the actors with their nerves during audition week. Before beginning their vocal workshops, Stutts reminded the students to show each other "no judgement, nothing but support."
This philosophy proved beneficial for some students. "For me, there really aren't nerves because everyone is so welcoming and kind," senior Hollyn Shadinger, who plays Brooke Wyndham, said.
But for others, the anxiety went beyond performing in front of their peers. "I'm nervous because this is my first high school production," White said. "I transferred here from McIntosh for the drama department. So if I don't get in, it'll be a tragedy," he joked. 
For many, the stress of auditioning manifested in their performances. "It was okay," Dawson said of her audition. "I could have done better. You could hear a little bit of the nerves in my voice."
Senior  and ensemble member Katie MacLauchlan was similarly affected by her nerves. "My audition went well," she said, "but it definitely could have gone better. I'm really not good at auditions because I show this nervous energy that I don't have when I perform."
Despite all of the anxiety that the audition process can cause and the hard work and sacrifices that the rehearsals require, students remain eager to participate in the musical year after year.
Why? As senior Alexa Echevarria, who plays Paulette, put it, "Everyone is here because this is what we love to do."
Though the auditions are often stressful and the rehearsals can verge on painful, the final performances are full of joy and excitement. "When we're on stage, we're not smiling because we're in character," Johnson said. "We're smiling because we're having the time of our lives."
Audiences can see the product of all this hard work when "Legally Blonde" opens this weekend. The musical will be performed Friday and Saturday at 7 p.m. and Sunday at 3 p.m. Tickets cost $14 for adults and $10 for students.