Travel, engagements, and family, OH MY!
Students and staff share out-of-the-ordinary adventures from holiday break
The holiday break is a busy time of year for members of the Panther family.  Some visit family, some stay home, and some go on extraordinary adventures.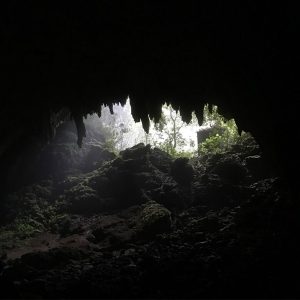 Senior Richard Smith grabbed his passport and headed to Puerto Rico to start the New Year. "We got there on Wednesday the 21st," Smith said. "The second day we were there we went to Cavernas Del Rio Camuy, it's a giant cave system in the middle of the island."
On the opposite side of the world, senior Devin Fourqurean vacationed to Paris, France, where she stayed in an apartment for eight days. Fourqurean enjoyed being in the city and experiencing the Metro. "It's definitely more confusing than riding in a car on long roads where you can keep up with the GPS," Fourqurean said. "On the Metro you have to always pay attention to where you are."
While this European train may move faster than cars it surely doesn't have far to go.
Fourqurean compared her suburban hometown of Peachtree City, Ga. to the beautiful city of love. "It's a lot different from the suburbs," Fourqurean said. "Everything is closer to you."
In contrast to their typical fast–paced lifestyles in the city, meals in Paris are more meticulous and drawn out. Shockingly enough, "a meal could last like two or three hours even if they are just drinking some coffee," Fourqurean said.
Thankfully, Fourqurean was able to find time after her extravagant meals to visit the famous Eiffel Tower. At the top of the tower Fourqurean witnessed a view that most may never see in their lifetime. "It was really cool to see Paris from that high up, especially because you can't see the edge of Paris," Fourqurean said.
While others may be sight seeing, freshman Ana Ash traveled to Ukraine where she had the opportunity to meet her soon-to-be adopted sister for the first time. "My parents adopted me when I was 14 and now they have decided to adopt one more child," Ash said. "I had never met her before so I was really excited."
After spending two days in Ukraine with her sister, Ash wrapped up her eventful trip with some quality time with her dad. "I went to Munich where I got to spent two days in Germany with my dad," Ash said.
It might be safe to say that this holiday break was an opportunity for quality time with quality people. That is certainly the case for economics teacher Walt Ellison. After nearly two years of dating Lisa Hobgood, Ellison decided it was time for the couple to begin an adventure of their own.  "I took the ring box out of my pocket, I went down on a knee, I opened up the box and said 'Will you marry me?'," Ellison said.
The year was ending but their relationship saw a new beginning. "I told her there was no other way to end 2016 than to start 2017 like this," Ellison said.