Empowering female artists
Nowadays, artists are greatly responsible for influencing and providing needed representation for teenagers. Kali Uchis and Princess Nokia, two newly discovered female artists, are excellent examples of how celebrating and taking pride in one's roots and self can be a pivotal, positive impact to growing adolescent girls.
These women were born in drastically different environments, but both are rich in culture. Karly Loaiza, who is better known by her stage name Kali Uchis, was born in Pereira, Colombia. Uchis' departure to Virginia  did not stop her from staying connected to her culture. In her music, she expresses her diligent independence in a silky voice that has a beautiful resemblance to the British singer Amy Winehouse. She sings in both English and Spanish, opening up to many different music styles that range from a groovy reggae to a smooth jazz. Her music videos give off a glowing, soft, angelic 60's and 90's type of mood, but with an interesting twist.
"
Kali Uchis and Princess Nokia…are excellent examples of how celebrating and taking pride in one's roots and self can be a pivotal, positive impact to growing adolescent girls."
— Staff Writer Victoria Sponar
Uchis links in her background in everything she does and allows her audience to get a look at the bountiful Colombian culture, which adds the color and brilliance and excitement that make her music videos original and positive masterpieces. She is an outspoken activist for many Latinx issues and has donated to many foundations that reached out to the victims of the earthquakes in Mexico and hurricanes in Puerto Rico.
However, the 23-year-old Colombian did not begin with instant fame nor fortune. At the young age of 17, Uchis would go to her high school during the day and stay in her car in a parking lot at night. It was just her, her music, and the silence of the Virginia night. She would feel alone, terribly sad, and constantly afraid that one day she would get attacked if she were found alone in her car during the night. Despite the circumstances Uchis found herself in, she clung to her art as an escape and created new music until she decided to upload a snippet of some songs she had made using the app Garage Band. Unexpectedly, Kali captured the attention of many famous artists, including Snoop Dogg, Juanes, Tyler the Creator, and Reykon. Years later, she is gaining more and more fame. This week alone, Uchis completed her first tour, was nominated for a Latin Grammy, performed on BBC and Jimmy Fallon's show, and announced her tour with Lana Del Rey.
Uchis is truly an icon to all teenage girls, preaching and proving that with a hard working mindset, one can reach even her wildest dreams. Most importantly, she is inspiring teenage Latinx girls, who are finally getting the representation they deserve, and telling them that they can do anything they pour their heart, soul, and mind into while still celebrating their roots.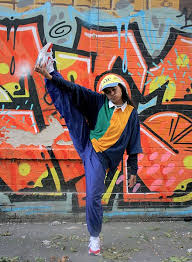 Another empowering female artist is a 25-year-old soul from the Bronx — Destiny Frasqueri. In an interview with Fader Magazine, Frasqueri talks about how difficult her life was growing up, especially after her mother died when she was so young. She was put into a foster home with an abusive mother that would beat her constantly, but because she worked in the school, no one did anything. The day before picture day, Frasqueri's foster mother beat her so brutally that she had a black eye and was forced to wear heavy makeup at the age of 10 so her bruises could be covered up.
"By 15 years old, I realized it was not okay to abuse a child, and I told myself that the next time she touched me, or was even rude to me, I wasn't going to have it no more," Frasqueri told the interviewer. She kept her word. That night, Frasqueri took off from the foster home and and went to live with her father and her childhood best friend, never seeing her abusive foster mother ever again. "That was really the start of Princess Nokia," Frasqueri said.
This tomboy yet chic Boricua full of unapologetic energy has begun countless projects that teach about the empowerment of all women and is a prime example of the amazing things women can accomplish when given independence and a determined mindset. Princess Nokia is the creator of her debut albums "Metallic Butterfly," "Honeysuckle," and "1992." In each of these albums, she preaches about body positivity, her independence, and her powerful Afro-Latinx background.
Frasqueri is spiritually connected to her ancestors, indulging herself in the brujeria (witchcraft) and spiritualism that they have passed on for hundreds of years. She is a woman who is constantly working on aligning all of her chakras, prays to the spirits of nature for the ultimate level of tranquility, and a wants to reach the greatest form of pure love for herself and for everything and everyone surrounding her.
"I had much to learn about the mysteries of life, indigo phenomenon, clairvoyance, magic, the reclamation of Afro-diaspora, conscious evolution, and vibrational oneness," Princess Nokia said, opening up about her spiritual journey and how it was challenging for her emotional, psychological, and mental health to reach the level that she is in now. The Afro-Nuyorican artist is always more than willing to spread her beliefs to her audience and has recently gained a large amount of views on a speech she gave expressing her spirituality at Brown University.
Princess Nokia describes herself as "a Yoruba, Taino, Puerto Rican girl with really brown skin, full curly hair, and a spirit that does not quit." She is also a messy, loud, and aggressive urban rapper that loves to begin with an ugly perception of something and later let its beauty shine through.
"When I think of concepts of myself or how I relate that to my art or to music, it's being the ugliest person and the coolest person at the same time. I like the duality of making something beautiful that isn't supposed to be," she says proudly in an interview with I-D magazine. Princess Nokia lives to express her ultimate identity as a nonconformist by being the boldest, most expressive, punk-pop, tomboy Boricua bruja.
This wavy and innovative rapper is an active intersectional feminist and uses her growing platform to raise awareness for many issues and helping minority women and developing countries in serious crisis. Frasqueri has created an online radio called "Smartgirlsclub." "I could have my own space when I was co-existing within a lot of white cis male spaces … where I could talk about urban feminism, sexuality, relationships, spirituality, music, art, and interview people and laugh and make fun of myself," Princess Nokia told the The Guardian magazine when describing why she decided to create this radio.
With her valiant, passionate, expressive and vocal personality, it is no surprise that Princess Nokia captures the attention of adolescent girls, many of them being girls of color. With her warm inclusion and celebration of women of color, she gives them a welcoming sense of inclusion that the media often lacks. This wavy rapper proves to young girls that they do not have to be just one-dimensional. They can be both a spiritually and culturally connected being with their own unique style while being messy, outspoken, unruly independent, and unapologetically themselves.
Kali Uchis and Princess Nokia are two hard working, independent women with a passion for their art. They have a true sense of empowerment and female-positivity that radiates off of them, making them perfect role models for young minority girls looking for inspiration and the celebration of their culture. But these two empowering female artists are not alone.
Ray Blk is a 23-year-old British rapper born in Nigeria with lyrics that preach about women empowerment and social justice. Mia Carucci, an Argentinian and Puerto Rican DJ, uses her platform to uplift her fellow Indigenous Latinx and constantly speaks up on social issues. Twenty-one year-old New York native rapper Leaf has also formed a movement telling women to stand up for themselves and empower one another.
These women are proud, self-proclaimed feminists that are on the rise and teaching young girls the importance about independence and the beauty of intersectional feminism.