Music Midtown brings festival experience to students
While the third weekend of September and final weekend of summer can be a somber end note to many, it also marks the annual pilgrimage to Atlanta's Music Midtown Music Festival for an increasing number of Starr's Mill students.
"The music was amazing, the food was good, and it was a lot of fun dressing up and just experiencing the whole thing. I'll never forget this weekend," sophomore Sarah Goins said. Held in Piedmont Park, the event provides festival goers with two full days of music performances and a taste of the city's best cuisine with an array of food trucks and vendors.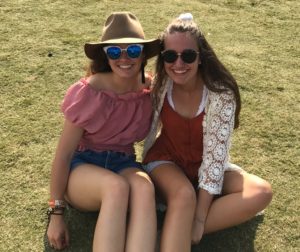 This year's eclectic lineup ranged from radio-friendly pop artists, such as Bruno Mars and Tove Lo, to tried-and-true rock acts, like Weezer. Beyond the diverse lineup, students were enticed by the overall unique experience such a large scale event provided.
Saturday began with indie pop artist, Dua Lipa, who set the tone for the weekend with her energetic set. Brooklyn buzz-band Sunflower Bean gave audiences a glimpse into the current blossoming underground rock scene. Acts gradually became larger in scale and popularity as the day went on, which saw summer festival circuit regulars, such as Oh Wonder, Milky Chance, and Big Sean, bring their acclaimed shows to eager Atlanta audiences.
The first day ended with a nostalgic performance from 90's pop punk pioneers Blink-182, and a crowded spectacle that included choreographed backup dancers and fireworks from top headliner Bruno Mars.
Many attendees chose to stay the night at one of many Atlanta's flagship hotels for both the convenience and experience.
Junior Ellie Camp decided to spend the night inside Midtown to stay with her friends and enjoy the city lights a little bit longer. "One of the main reasons I went was to spend time with my friends, and spending the night in Atlanta let us enjoy each other longer. The nice views from our room was a plus," Camp said.
"
The whole environment is live so lively and open-minded, so just living in the moment with all my closest friends is what makes it so much fun."
— Senior Bridgette Davenport
Sunday morning brought just as much anticipation from festival goers excited to spend another day in the friendly festival atmosphere. It was this atmosphere that attracted senior Bridgette Davenport for a fourth year. "The whole environment is live so lively and open-minded, so just living in the moment with all my closest friends is what makes it so much fun," Davenport said.
The Liverpool guitar pop band Circa Waves opened the second day with an upbeat set that perfectly complimented the sunny, warm weather. Crowds continued to burst with energy, swarming rapper Trippie Redd as he dove into the crowd during his 2 p.m. set on Sunday.
Late Sunday also saw a performance from Two Door Cinema Club, an alternative rock staple, whose set many considered to be one of their favorites. Junior Filip Borjeson considers himself a huge music fan in general and Two Door Cinema Club was one of the main acts that stood out to him on the "stacked lineup."
"Two Door Cinema Club has a sound that seems perfect for a music festival to me," Borjeson said. "Their upbeat guitar riffs being played as the sun was beginning to go down was amazing."
In addition to the musical lineup, the festival fashion proved to be another essential element to the experience. Junior Isabelle Bowman described the outfits of festival goers as "very fun and unexpected." "They just weren't outfits you'd normally see," Bowman said. The prevailing style choices were typical of music festivals today, with many attendees opting for Bohemian and street-inspired ware.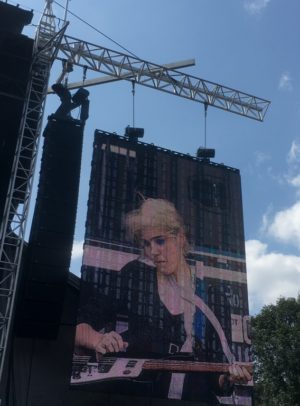 As the sun began to set on the second day, many Starr's Mill students gathered in anticipation at the Cotton Club stage for a performance by Atlanta rapping native Russ. "Russ was definitely one of the highlights for me. He's an amazing performer and it was cool that it was his hometown show, too," Camp said.
The final day was closed out by headliners Future and Mumford & Sons playing simultaneously.
Future was a major draw for most Starr's Mill students. Senior Madison Bunch arrived hours early at stage of Future's set to secure front row spots.. "It was worth it because he had so many songs I loved, and I knew he would give a good performance," Bunch said. The Atlanta-based rapper delivered on expectations, performing an exhilarating set of samples from his extensive trap music-based catalogue of hits.
Meanwhile, at the Salesforce stage, Mumford & Sons strummed out a set of folk rock that their dedicated fans have come to know and love. Complete with confetti and guest appearance from sister songwriters Haim, the performance became even an emotional experience for festival-goers in awe of the transcendent set punctuating a gratifying weekend.
This rewarding experience was one that Goins had long dreamed of and was finally made a reality when she won passes to Music Midtown in a giveaway sponsored by The Prowler. "I've wanted to go to for a while so I was so surprised and excited when I got the text saying I won the tickets," Goins said. "Overall the festival was great. I saw so many of my favorite bands with my sister, Claire, and it was so much fun."
The festival served as a setting for many memories to be made that many Starr's Mill students find themselves missing once leaving the festival. The overall positive experience has this year's attendees and their friends longing to experience the same already counting the days until next year's festival.
"I'm already making plans to visit next year, no matter where I will be living for college," Davenport said. "Whatever the lineup is, it will be worth the trip."