#squashgoals
Culinary classes participate in Halloween tradition
It is now October, which means we are one step closer to the Halloween season. One popular activity that occurs this time of year is pumpkin carving. Following this theme, all the nutrition and culinary classes at the Mill held a pumpkin carving project.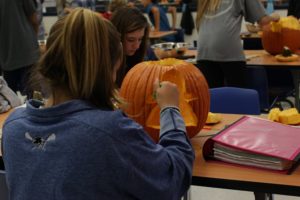 "[The activity] incorporates teamwork," nutrition and food science pathways teacher Adriah Williams said. "It gets them to utilize their time wisely and utilize their tools."
The culinary classes are learning to handle knives and tools, which will be applied through the whole year as the classes will be working with foods. Along with the usage, students are going to learn to work together throughout the two day event.
"I learned knife skills and how to communicate with others in my group," freshman Emily Heffler.
On the first day of the project, students chose their pumpkins and dug out the seeds and pulp from the inside. On the second day, students designed, carved, and named the pumpkins. Then, students voted and ranked for which of the pumpkins that they liked the most.
The pumpkins were chosen by the students, the People's choice, where students chose the one that they thought was the coolest.
"We made a Jack Skellington pumpkin," freshman Mary Faught said. "I enjoyed working with the group and the hands-on experience learning."
Out of all the pumpkins that were submitted, only one pumpkin was selected for each class period. The winning pumpkins from each class period were:
2nd period – Nightmare on Sesame Street
3rd period – UP!
5th period – The Falsely Accused
6th period – BOO! Snapchat me that pumpkin!
7th period – Under the Pumpkin

This was the first year that the culinary classes have done the pumpkin carving activity, as well as harvesting the seeds and measuring them, which is part of the course's curriculum.
"Yes, [we will] definitely [do the pumpkin carving next year]. Next year we want to definitely do the bleach dip [to preserve the pumpkins], and we will be doing them on a Monday so they can last the rest of the week," Williams said.