New club at Starr's Mill has students flying high
The Panther Squadron, a new aviation club here at Starr's Mill, will be starting up this fall. The club will be headed by Huey Harris, a local pilot, and father of junior Preston Harris and senior James Harris. U.S. History teacher Jason Flowers will also sponsor the club.
"[The club will] focus on [the] kids that go to high school [at Starr's Mill], that have interest in anything related to aviation," head of Panther Squadron Huey Harris said.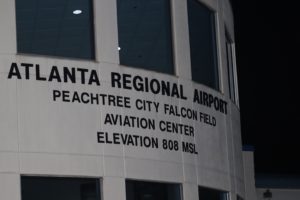 The Panther Squadron is not completely new to Starr's Mill High school. The club was very popular in past years, but was disbanded due to the sponsor leaving the school. The club will allow students who have a passion for aviation to get a jump start in the aviation industry. There are no competitions. However, Harris would like the club to go on field trips so that the students may get even more real-life experience in the industry.
"In talking to [the members of the club] we asked them 'do you guys and girl think that [The Panther Squadron] would be something that would be good'," Harris said.
The club will not be just limited to piloting, students may even get the chance to learn about air traffic control, as well as tour air traffic control facilities nearby. Other ideas of where the students could go include touring and learning about Falcon Field, the airport here in Peachtree City, as well as other facilities nearby.
"Through the enthusiasm of the students and myself and finding a teacher sponsor, we figured there was enough interest around here of kids that would support the club," Harris said.
With the close proximity to airports, and many students having family members in the aviation industry, the interest among students is very high. Despite not yet having a club meeting, Harris is already aware of multiple students at Starr's Mill who are interested in the Panther Squadron.
"I was very excited to hear the news that [the squadron] was coming [to Starr's Mill]," junior Jack West said.
With more and more student support, there are hopes that the club will continue to grow. The Panther Squadron is open to anyone, not just students who have started their aviation training. However, the target audience is students who have a passion for aviation and flying.
Those who have a passion for aviation, flying, or are just interested in the subject are encouraged to sign up for the club. The first club meeting is scheduled for 8 a.m. on Nov. 13 in room 860. Interested people can also follow the Panther Squadron on Twitter @panthersquadron.