GHP candidates move on to final judgement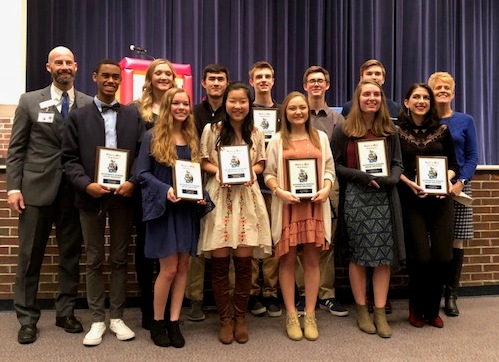 Thirteen of the Mill's best and brightest were chosen to move forward to the state interview portion of the Governor's Honor Program, breaking the record for the most people coming from Starr's Mill. These students will now compete with other top students throughout the state for the opportunity to attend a four-week residential summer program at Berry College.
At the beginning of this school year, each school board recommended gifted and talented students for the program. Assistant principal Deb Troutman then helped choose the most qualified out of the recommended students. Fayette County is allowed to nominate 50 candidates every year, so each school must come together to choose the best and the brightest. The nominees are then handed over to the GHP board, and the students begin the process that will hopefully get them to the state interview. Fifteen students from Starr's Mill went to the county level interview and 13 passed through to the state round.
If a candidate makes it past every level of the program, the student is then able to attend a residential educational experience on the Berry College campus for a month during the summer. The students will attend classes and participate in a wide variety of social and instructional activities.
"They see a different perspective of the area that they love," Troutman said. "It gives them a taste of college life and what area they might want to major in, and they get to spend four weeks doing what they love with other people that love the same things."
GHP is designed to provide students with the skills necessary to become the next generation of global critical thinkers, innovators, and leaders. Starr's Mill would like to congratulate everyone who was nominated, has competed, and who will continue to the end of this prestigious competition.
Nominees from Starr's Mill:
Junior Carol-Anne Collins – Science

Junior Sarah Door – Dance

Junior Julia Edwards – Visual Arts

Junior Ian Fertig – Science

Junior Momoka Fukuyama – Mathematics

Junior Cassidy Haycock – World Language: German

Junior Brady Meyer – Science

Junior Sean Nima – Science

Sophomore Brock Spence – Mathematics
Junior Blythe Terry – Communicative Arts

Sophomore Olivia Wernecke – Theatre

Junior Cole Wittbrodt – Social Studies

Sophomore Hengfei Yao – Mathematics

Junior Clarence White – Theatre Performance

Junior Cheryl Marshall – Spanish