On the way to Oz
Starr's Mill theatre prepares for their spring musical
For this year's spring musical, Starr's Mill is bringing their version of "The Wizard of Oz" to Duke Auditorium. The musical, based on the original 1939 film, is the classic story that everyone knows, with a Starr's Mill twist to it.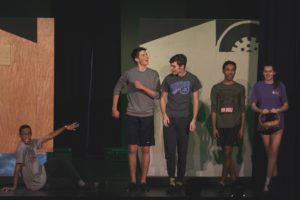 "Visually we're changing costumes and set pieces, to give them a more steampunk feel," Starr's Mill drama teacher Savahna Silvas said. While the story will remain the same, the steampunk aspect will give the stage a more historic, industrial aesthetic. With a change in visuals, the theatre department aims to create a more fresh, interesting show out of an old story. "It's a show we all know and love," Silvas said. "We're just trying to find ways to make it [newer]."
After a long casting period in November, the theatre department has been working for nine weeks on the production. "It was very hard to cast. We're lucky to have so many talented individuals," Silvas said. "We got some new surprises from kids not even in the theatre program."
The cast isn't the only group that's been working hard — the theatre department will also have a live orchestra for the first time in six years, courtesy of band instructor Scott King. This musical is going to feature vocal, dance, and orchestral talents, live in front of the audience.
"[People should come see this] for the wonderful talent being showcased from all fine art aspects," Silvas said.
Tickets have been on sale in the front office since March 6. They are $10 for students and $12 for adults. The musical will take place on March 15-17 at 7 p.m. and on March 18 at 2:30 p.m.