Renovations stall
Summer refresh projects may take all year to complete
Starr's Mill has many noticeable changes that came with the 20-year renovations it had over the summer. These new additions have brought better ways for the student body to learn and prosper and also have just added simple changes to make the Mill look brighter and happier. Overall, these changes look as good and complete as they will ever get. However, looks can be deceiving as the list of renovations is still far from completion and new projects that do not involve the renovations, but still need done, are being added to that long to do list.
"
In a building of this size, with as many rooms, that punch list can be pretty long and so there are a pretty large number of those punch list things that need taken care of."
— Principal Allen Leonard
"Anytime you ever have a construction project there is always the things that don't get done exactly right the first time," Principal Allen Leonard said. "And so when they are not done right the first time you create what is called a 'punch list,' so the company knows to go and punch off those things. In a building of this size, with as many rooms, that punch list can be pretty long and so there are a pretty large number of those punch list things that need taken care of."
While a lot of the items have been checked off of this particular project, over 100 still remain and there is barely any time for those tasks to be done. Since the school must maintain a safe working environment for its students, the workers cannot be on campus during school hours, forcing the majority of the work to be completed on weekends. "The last break, they actually got a lot of work done, that unless you are in particular areas, you wouldn't have seen that. They got the gym track done and the band floor was redone," Leonard said.
Despite the weekend work being completed there is still a lot to do. Examples of unfinished tasks can be seen all over the school. In the band room a smart screen has still not been put in place, leaving any online instruction to be done on an antiquated projector system. The English department is still without a book storage room, leaving the hundreds of novels that are not currently being read to be left in rooms, such as The Prowler's newsroom.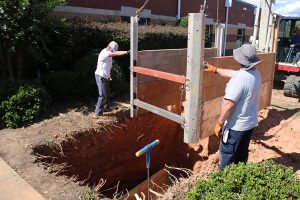 Even some of the already completed projects need reworked. There are several areas of the school where mistakes by the construction workers have led to the need for repair. "There are areas where they put in motion detectors instead of light switches or heating and air aren't working exactly right," Leonard said. "We ran into some interesting issues with some of our network drops and the networking where they thought a classroom was used for one purpose, but was instead used for another."
On top of all the unfinished work at the Mill another job has recently popped up that the school must complete. Last week, a sewage issue on the world language hallway created a new task for school officials to handle. What seemed to be a simple clog has proven to be much worse as the reason for the blockage was traced outside to where plant life has grown into some of the school's pipes. This not-so-ideal situation has brought workers outside to start digging and repairing the problem leaving the attendance office doors closed for the week to come.
It also could leave several parking spaces out of commission, but as of right now the parking lot will be left unharmed. "We don't think [parking] will be affected," Leonard said. "If I could only see the future."
For now students who arrive before 8:35 a.m. should use the 600 and 800 hallway doors to enter the building. Any late arrivals should park in the front lot and use the front office for check ins and check outs. The construction should be complete by the end of the week with parking resuming to normal on Monday. However, a school-wide email will be sent out if any project delays occur.
As for the rest of the renovations, school officials still hope to have a completely finished school by the end of the school year.