Have yourself a spooky little Netflix
The edgy, the innovative, and the just-for-fun
New Netflix releases are always bound to make a splash online, but this past holiday season had more hits than to be expected. But do the releases live up to the hype?
Whether it's a safe-bet continuation of a hit series, a completely original film, or something that Netflix has never done before, all three of the releases have things that have made them resonate in pop culture—as well as things that didn't quite hit the mark.
"Bird Box"
Netflix's apocalyptic thriller "Bird Box" took the internet by storm thanks to an aggressive advertising campaign and the movie's unique premise: an invasion of creatures that cause anyone who sees them to commit suicide or go insane. This movie was one of Netflix's most popular original films in 2018, but when we look beyond all the hype, this movie was decent but not extraordinary.
By all means, "Bird Box" is an entertaining watch, but the best reason to watch is to just discover if it was worth all the attention.
The special effects and production value of the whole thing reflect dedication and skill, and the premise provided for a somewhat compelling thriller.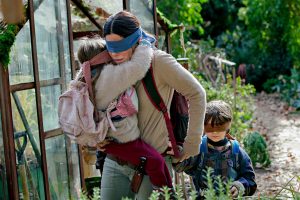 The characters are believable as real people trapped in an unbelievable scenario, and the cast members do a decent enough job.
The concept is exciting, and some twists in the story are pleasing to see.
That being said, "Bird Box" has too many underwhelming elements to be worth rewatching. The characters are believable, but none are overly likable.
Many scenes and events in the film feel poorly written, and the ending is an overdone, over-acted anticlimax.
The movie in part revolves around a woman, her two children, and her quest to protect them from the nightmarish beasts in the world, but this aspect only led me to compare "Bird Box" to John Krasinski's horror hit, "A Quiet Place."
The family dynamic in "A Quiet Place" is so compelling that the family in "Bird Box" might as well be total strangers. Also, to make a point that the woman in "Bird Box" is initially not emotionally attached to the children she protects, she calls them "boy" and "girl" throughout the movie. This move may have seemed clever on paper, but it just watered down their relationship and made their survival feel less important.
Don't hurt yourself rushing to see this thriller, especially with the other, better new releases from Netflix this Holiday season.
"Black Mirror: Bandersnatch"
"Bandersnatch" is best described not as a movie, but the way Netflix described it: as a Black Mirror event. This installment in the popular dark sci-fi series deserves the title.
"Bandersnatch" is an interactive film that exceeded expectations by sending viewers on a mind-bending trip where they chose the destination, with each possible ending just as twisted or strange as the last.
"Bandersnatch" allowed users to control Stefan, a young man in 1984 attempting to design a choose your own adventure video game called Bandersnatch based off of a choose your own adventure book by the same name. Stefan's possible futures are in the viewer's hands.
The best part of experiencing "Bandersnatch" is controlling Stefan's choices and experiencing the various twisted outcomes of his story. Some of these endings are tragic, others are meta beyond belief.
Thankfully, Netflix makes it easy to explore these endings, giving viewers the option to revisit important decisions once an ending is reached. Slightly problematically, this often means forcing a viewer back to make choices again, which can be tedious, as it translates to rewinding a film and watching it all over again. This being said, the thrill of the playthrough makes "Bandersnatch" well worth a watch.
"Bandersnatch" features a stylish '80s theme (a la another Netflix success story), some memorable characters (the best of which is Colin Ritman, played by Will Poulter), and a bunch of easter eggs to other "Black Mirror" episodes.
It's a fun trip to explore alone or with a group.
"A Series of Unfortunate Events: Season 3"
The main draw for viewers here is still the jaw-dropping visuals. From the peak of Mount Fraught to the halls of the Hotel Denouement, everything in Lemony Snicket's world comes to life in full force. It's nothing new for the Netflix adaptation, but still a reason to tune in. (And we, as always, absolutely adore the costume designer for giving us quirky, Wes Anderson-esque outfits for the Baudelaire orphans and company).
Neil Patrick Harris is still something of a polarizing figure in his role as Count Olaf, but it's certainly not for a lack of trying. (And hey! He's an actor playing a bad actor, so viewers can often get wires crossed.) He brings a lot of spark and passion to the season with his performance, but it's not just Harris who stood out this season.
Allison Williams of "Get Out" fame joins the cast as Kit Snicket, giving a charming, cool take on the character.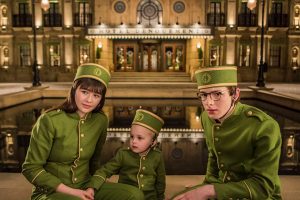 The orphans and other child cast members are as earnest and dedicated to their craft as they've ever been.
As the story unravels, we're also able to revisit actors that have graced the show in seasons past.
For lovers of the series and believers in the art of the adaptation, the news that season three would be the show's last was a huge relief. Since the (bad) beginning, "A Series of Unfortunate Events" has been all about staying true to the source material and not awkwardly extending the story, and the series sticks to that for the most part throughout the final season.
While there are still substantial changes and plenty of unanswered questions to keep us wondering, the plot artfully follows the thread of events that the books did. It's a satisfying end for those who've been with this series for much of their lives.
"A Series of Unfortunate Events" is a rare case of a non-awful adaptation. Season three is especially worth it, because just like in the books, the plot patterns of the "Unfortunate" series slowly become deconstructed as secrets are revealed. It makes it arguably the most entertaining of the seasons, with a little more grit and drama among the whimsy the show's established as being so key to its identity.
And while it is only an adaptation, "A Series of Unfortunate Events" is full of artistic touches that make it something all its own.
Leave a Comment