2018's holiday hits
The holiday season is a popular time for top-tier production companies to release some of the year's biggest movies. Looking back on the 2018 Christmas season and the movies that came with it, these are five of the biggest movies that hit theaters while students enjoyed the end of another semester.
"Spider-Man: Into the Spider-Verse"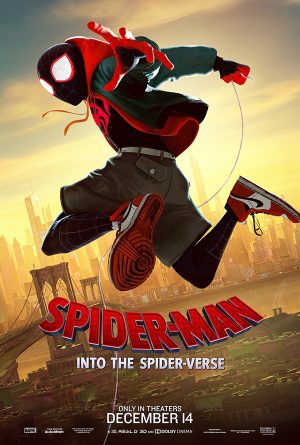 The holiday movie season kicked off with "Spider-Man: Into the Spider-Verse" on Dec. 14. This unique film from Sony Pictures Animation more than earned the hype that surrounded it before and after its release.
"Into the Spider-Verse" was an incredible movie that set a precedent for comic book films, balancing a cast of strange characters while never losing sight of the true protagonist and his personal journey.
The film focuses on Miles Morales, a Brooklyn teen living in a universe where Peter Parker is the one and only Spider-Man. When the Kingpin of Crime builds a supercollider to access other dimensions, a hilarious and compelling adventure kicks off that introduces Miles to his dimension's greatest villains and a cast of different Spider-heroes from across the multiverse. Of these various characters, the best by far are Spider-Ham (voiced by comedian John Mulaney), a cartoon Spider-hero from a dimension of animals, and the Prowler, a powerful new villain from Miles' dimension.
"Spider-Verse" stood out for its animation style, which captures the vibrant feeling of a comic book in a smooth and visually spectacular film. The movie also retells a Spider-Man origin story in a fresh way by combining this dynamic style with the unique Spider-Verse storyline, which allows Miles to be mentored by an old, sarcastic Peter Parker.
It's still not too late to experience this movie in theaters and discover why it won the Golden Globe for 2018's Best Animated Feature.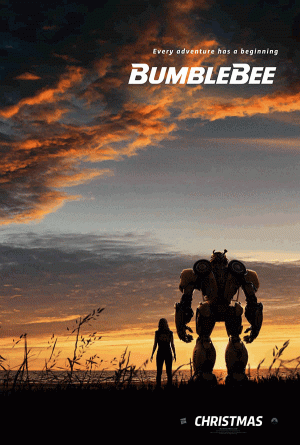 "Bumblebee"
This prequel was an enjoyable film, though much different from the other Michael Bay films. For most of us, the Michael Bay films are the Transformers. They're action-packed, full of top-of-the-line CGI, and bombs and explosions.
In comparison, "Bumblebee" is relatively tame, with not as many action-packed scenes and more scenes detailing the blossoming of relationships between characters, particularly between Bumblebee and his human ally.
But that is to be expected, as "Bumblebee" is, in all senses, a prequel. Taking place before the events of all the other movies, most of it is spent establishing the premise for the plot to come in the following films.
However, there is one big flaw this movie has, and that can be summarized in two words: plot holes. "Bumblebee" is riddled to the brim with them, especially seeing as it's supposed to be the movie that explains the reasoning behind the setup of all the others.
A minor nuisance at most to the die-hard Transformers fans, what this movie lacks in plot, it makes up for in the wholesome growth of the characters' relationships.
"Mary Poppins Returns"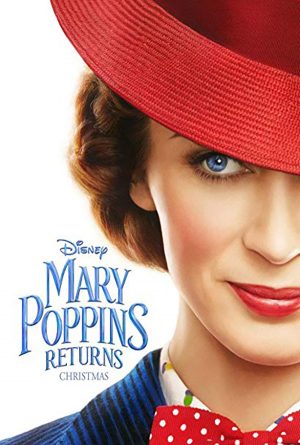 The most apt question for "Mary Poppins Returns" is what isn't good about it rather than what is. The cast is full of renowned actors.
Emily Blunt plays the titular character with as much magic and sass as is to be expected. Creator of "Hamilton: An American Musical" Lin-Manuel Miranda plays Jack the Leary and even Meryl Streep has a place in the cast as Topsy, cousin to Mary Poppins. Other notable cast members include Colin Firth, Julie Walters, and Dick Van Dyke. Such a star-studded cast is sure to make a memorable movie.
Not only is the acting off the charts, each musical number is absolutely spectacular. Every cast member has amazing vocals that are clearly shown within the musical numbers. The songs are just amazing to listen to, but also make the audience want to sing along with the characters. Most of the songs are catchy and upbeat with plenty of dancing and movie magic to make for some really awesome musical numbers.  
But it's not just singing and dancing about random things. There is an actual, believable plot that kids can understand and adults can sympathize with. The Banks family is in danger of losing their house to the bank because of a loan that Michael Banks took out after his wife's death. The children and the adults are all working to save the house, all while going on magical adventures with Mary Poppins.
"Mary Poppins Returns" is a movie for anyone, especially those who enjoy music and magic.
"Vice"
"Vice" is Adam McKay's most recent stab at the biographical comedy-drama after 2015's "The Big Short," this time tackling the life and times of former vice president Dick Cheney. The films have a lot of similarities (and a lot of the same cast), but "Vice" has proven to not be the critical hit that its predecessor was.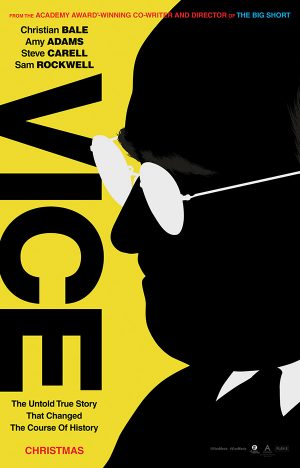 "Vice" establishes from the get-go its hyper-critical liberal lens, and that's not really a problem. This movie never pretends for a second like it's going to give Cheney some glowing performance review, and arguably takes a lot of consideration into how his story is told.
It'd be laughable to call it delicate–but that isn't what McKay is going for. He's going for precision. Whether that's okay or not is another matter entirely.
The narrator's punchy explanation of people and events take the audience on an action-packed journey of a seemingly un-cinematic life. There's plenty of intrigue. But the film doesn't really grab the audience like it should.
Though it's spiced up with punchlines, the plot structure of "Vice" ends up being kind of long-winded and without much weight. It becomes more "look at what he did" than having a coherent message that viewers can latch onto, even assuming viewers are already inclined to dislike the guy.
As far as performances, Christian Bale's transformation probably makes "Vice" worth a passing watch when it's finally streaming. It's natural enough to work within the movie, and seamless enough to be awe-inspiring.
Less talked about is Amy Adams' Lynne Cheney, who becomes the crux of Cheney's motivation within the narrative of "Vice." Adams is believable and brings in an edge to the character that's actually quite unsettling.
Steve Carell as Donald Rumsfeld is basically just Steve Carell being a wicked version of himself, and I guess that works. Sam Rockwell's George W. Bush is just plain fun.
"Vice," like "The Big Short," definitely still has that interactive spark that forces the viewer to engage, at least for the first act. The question has to do with when the McKay charm wears off. If it doesn't, viewers are in for a pretty watchable flick about Dick Cheney being a scumbag.
"Aquaman"
DC Comics has been struggling to put out a decent film for the past seven years, with the exception of "Wonder Woman." The trailer for "Aquaman" was a bit fishy and reminded me a little bit of the failed "Justice League." With this being said, I went into the film open minded. Within the first 15 minutes of the film, I was hooked. Aquaman fixed many things that DC has been doing wrong and ended up producing a quality film.
The film starts off with a pleasant romantic-comedy scene that sets a fun mood. All of the 'land' scenes are set in beautiful oceanic settings, but scenes taking place in Atlantis are a different story.
During scenes in Aquaman's kingdom, the whole screen can be blue for five to ten minutes at a time, already on top of tons of CGI making it difficult to watch. Other than the underwater scenes, it's a great movie visually.
It's a cliché hero movie, with the protagonist hitting rock bottom and then going on a journey full of obstacles to come back and win. It's overall predictable, which was fine because the film had enough interesting elements to work. 
The best parts of the entire film are the fight scenes. I was surprised to see that the fight sequences were so well orchestrated and filmed, coming from a DC film. The theater would rumble and the camera would calmly shake with each major blow on screen — it was great to watch. This, combined with smooth camera work, provides for fluid action sequences throughout the film.
Aquaman is well on track to hit $1 billion in sales and is a huge hit worldwide. This is the first step to redemption for DC to successfully re-enter the world of film.
Leave a Comment