Lady Panthers shutout region opponent Fayette County 17-0
The Lady Panthers bounced back from their 8-3 loss against Whitewater High School on Sept. 22 to win 17-0 against region rival Fayette County High School.
"It's been a total team effort, but we've had different people every game step up," head coach Mark Williamson said.
The game began with Starr's Mill pitching first. The Lady Panthers were relentless as they didn't allow Fayette to score in the top of the first. Mistakes and miscommunication from the Tigers allowed the Lady Panthers to score three in the first inning.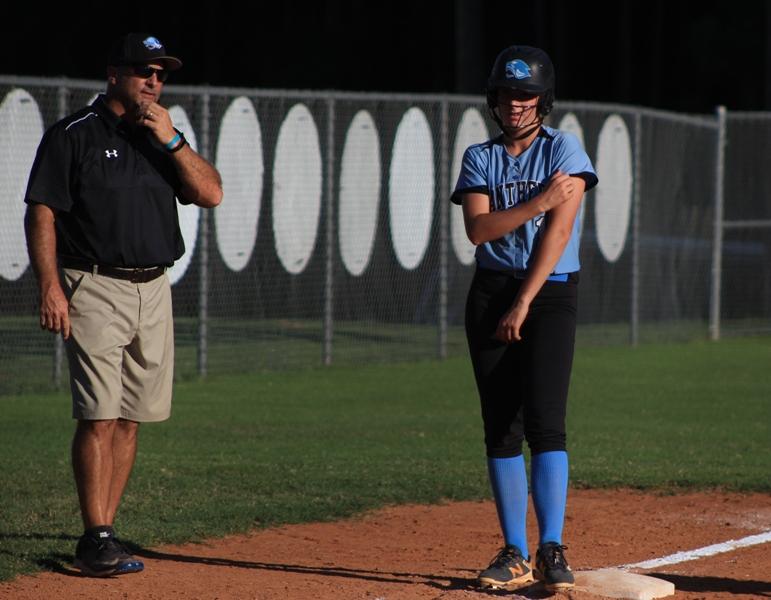 The Panthers kept their 3-0 lead through the top of the second, due to miscommunication on the Tigers' end.  Sophomore Makaela Sigler had the most RBIs of anyone on the home team with a total of three. Behind her were juniors Abbey Brady and Kennedy Dennis, and sophomore Alyssa Angelo with two. Juniors Kailani Serapion and Emily Nieuwstraten followed with one run batted in.
"We have a better team, a better skill. They had some good players, but overall we're a better team," Nieuwstraten said. "They're not focused on softball that much."
The Panthers stepped up their game in the second inning where they scored 14 runs, increasing their lead to 17-0 against the Tigers. Angelo contributed to the 14-run second with a two-run home run. All nine batters in the Panthers' lineup scored at least one run in their 17-0 victory against the Tigers.  
"It's easy to lose focus. Their pitcher was not bad, so we got some good swings from at least an average pitcher," Williamson said.  
Fayette was unable to score in the top of the third, and the umpires called mercy rule. This is the second time the Panthers defeated region opponent Fayette County High. Starr's Mill's first Fayette victory was on Aug. 25, with a final score of 16-0.
"I think we should go pretty far. We've meshed pretty well over the past few games. We should make it to at the least the second round," Nieuwstraten said.
The Lady Panthers followed up this victory with another one on Sept. 26 when they defeated Riverdale 16-1 to finish the regular season..  Then, on Sept. 28, Starr's Mill defeated McIntosh 8-0 and 14-0 to advance to the region championship.  
During the regular season, the Lady Panthers went 18-8 overall and 10-2 in the region.  Both region losses came against a very good Lady Wildcats team that had a 20-4 overall record and was 12-0 in region play.  
The teams meet again on Oct. 4 for a double-header to decide the region.  The games will be played at Whitewater High School beginning at 5 p.m.