Record-setting season ends in Elite 8 loss to Hiram
This year's basketball team at Starr's Mill accomplished more than any team in school history. They won the first region championship in Starr's Mill history while also breaking school records for wins in a season and longest win streak.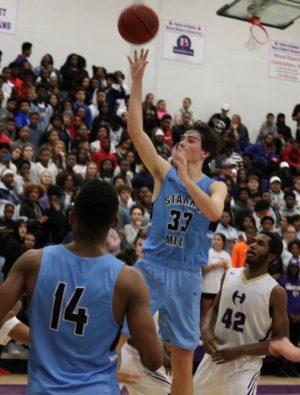 "It's cool to be a part of something like this," senior guard Jake Bishop said. "This season was so fun and we did some great things."
The Panthers first 16 games produced a 9-7 record, including a 10-point loss to McIntosh on the road. Barely managing to stay over .500, the season looked in jeopardy early on. However, senior forward Drew Hudson led Starr's Mill while they stormed to the top of the region. A 13-game win streak saw the Panthers capture the No. 1 seed in the region tournament, which they went on to win.
In the Panthers' first state playoff game against Woodland, Hudson surpassed 1,000 career points, the first boys' player to do so at Starr's Mill. After defeating Woodland and Wayne County in the state tournament, the Panthers traveled to Hiram High School for their first ever Elite 8 appearance. However, all good stories come to an end, and the Mill's story closed against the Hornets, who defeated the Panthers 47-35.
"They just got off to a hot start," Hudson said. "They made their first six shots and we started pretty slowly."
Hudson scored 19 points on 5 of 14 shooting from the field. Junior Nate Allison returned from injury and tallied five points and seven rebounds for the Panthers. Starr's Mill shot 12 of 34 from the field, including 1 of 8 from behind the three-point line. They also struggled from the free throw line, where they knocked down 11 of 17 charity shots.
The Hornets forced many turnovers on defense while running a patient, efficient offense. Hiram took their time on offense and made sure every shot was a good shot. They also struggled from the free throw line, but still managed to capture a 12-point victory to advance to the final four.
"I think we could have rebounded better and obviously scored more," Hudson said.
Hiram jumped out in front of Starr's Mill as soon as the game started. Senior Rapheal Rogers scored seven quick points as the Hornets jumped out to an early 12-0 lead.  After falling behind, the Panthers slowed the tempo, and looked for a way to score. The rest of the quarter was slow, and ended with Hiram up 14-4 on Starr's Mill.
The Panthers controlled the second quarter and fought back into the game. Hudson led the Mill's offense while they played team defense and brought the game to within five points. Starr's Mill only trailed 19-14 going into halftime.
"
Basketball taught me many great life lessons like how to be a leader and how to keep fighting for something you want."
— senior guard Jake Bishop
"A lot of the time we just struggled to score," Bishop said. "We were getting open looks. We just couldn't knock them down."
Bishop opened the second half with a steal and layup for the Panthers. A few possessions later, Starr's Mill trailed before 21-18 before a Hiram run opened another gap. The Hornets scored eight straight points to take a 29-18 lead late in the third. The Panthers scored five more points before the quarter ended, and trailed 29-23 going into the final quarter.
Hiram scored the first four points of the fourth quarter, and didn't look back. The Panthers defense created opportunities for the Mill to get back into the game, but they couldn't convert on offense. Hiram struggled with free throws in the final minutes, but made enough to close out Starr's Mill. The Hornets advanced to the final four of the GHSA AAAAA State Playoffs, while the Panthers historic season came to an end.
"Basketball taught me many great life lessons," Bishop said, "like how to be a leader and how to keep fighting for something you want."
This was the final game for seniors Hudson, Bishop, James Harris, Mitch Prowant, Carson Langham, Max Marquardt, and Dean Patterson. Starr's Mill will look to juniors Julian Lynch and Allison to lead Starr's Mill next year, and they'll have help from sophomores Zach Cerniglia and Reese Clevinger to attempt a return to the Elite 8.
The Panthers season is one to remember, with many school records being shattered. With a large senior class graduating, the Mill will see a youth movement through their team next year. Even with a younger team, Starr's Mill will still look to improve upon this already impressive season.