Starr's Mill defeats Union Grove 5-1 in Sweet Sixteen
While Union Grove, the No. 1 seed from region 4-AAAAA, started the game off strong, Starr's Mill, the No. 2 seed from Region 3-AAAAA, fought back hard and defeated the Wildcats 5-1.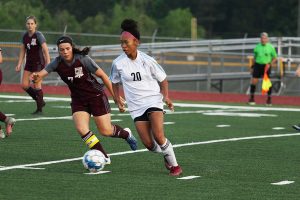 For the Mill, junior Quin Nowicki led the scoring with two goals. Junior Chloe Spradlin, sophomore Sara Evans, and freshman Sophia Bernardi contributed one goal each.
"We really came out with the right mentality," sophomore Sofia Varmiziar said. "We knew what to look out for. They have a fast forward up top, and two really good midfielders and we covered them really well."
In the first ten minutes of the game, senior keeper Abby Weaver made three saves to prevent the Wildcats from scoring. In the 16th minute, Evans scored the first goal of the night by pulling the opposing keeper out of the goal and dribbling around her to have a wide open shot on the goal. After Evans scored, neither team was able to score, sending the game into halftime with a score of 1-0 favoring the Mill.
"We were focused," Spradlin said. "They let down their guard for one minute, and then once we frustrated them, we just kept going."
The second half started out with the same pace of back and forth with tight passes coming from both sides. The Wildcats began to get leg heavy, and Spradlin scored off of a corner kick in the 52nd minute. Not even a minute later, Nowicki scored her first goal of the night, making the score 3-0.
In the 60th minute, Bernardi scored the fourth goal from within the box assisted by Evans. The Wildcats tried to battle back in the 63rd minute, and scored one goal.
Nowicki scored the last goal of the night in the 72nd minute, making the score 5-1. For the rest of the game, the Lady Panthers were attempting to score, while Union Grove chased behind.
"It was probably one of if not the best game we've played all year," head coach John Bowen. "They were locked in from the first minute."
The Lady Panthers will play next against Carrollton, the No. 1 seed from Region 7-AAAAA, on May 7 at 6:30 p.m. at Carrollton. Carrollton has an overall record of 13-4-3. The Cardinals have advanced over North Springs, the No. 4 team from Region 6-AAAAA, and Clarke Central, the No. 2 seed from Region 8-AAAAA, in the first two rounds of playoffs.