Climb starts now
Volleyball returning to peak potential at right time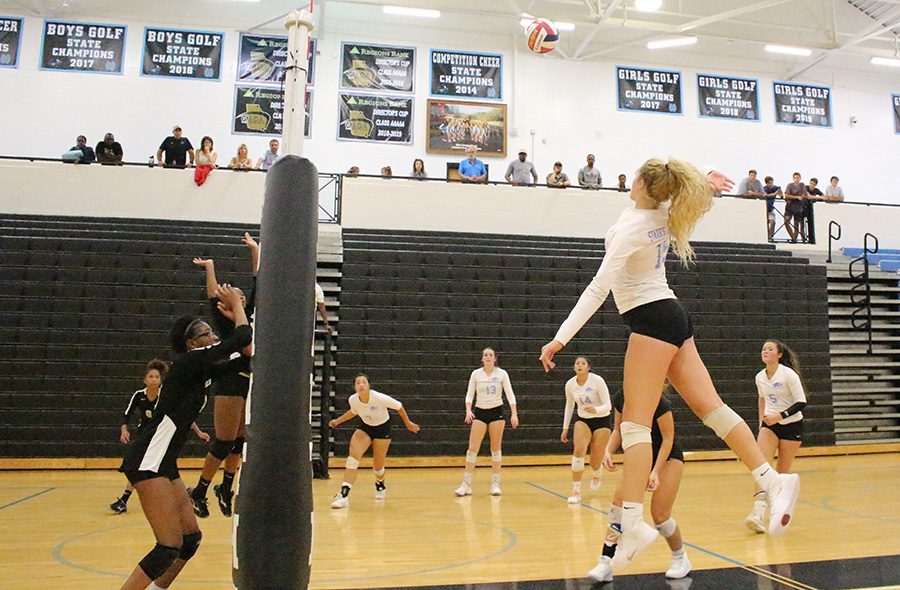 To wrap up the first half of the volleyball season Tuesday night, the Lady Panthers hosted Fayette County High School and Riverdale High School. Starr's Mill beat Fayette County 2-0, winning those sets 25-8 and 25-12, and also beat Riverdale 2-0, winning those sets 25-10 and 25-9.
These wins show that this team has what it makes to succeed this year. However, there are also a few challenges that stand in their way.
Pieces to succeed
Starr's Mill volleyball has a lot of talent. This team as a whole has accumulated 561 kills, a hitting percentage of .282, and 163 serving aces.
"It all starts in practice," senior captain Kayla Sloan said. "You have to practice the way you want to play in a game."
Three major players that have contributed the greatest have been sophomore Nicole Smith, and senior captains Kayla Sloan, and Tessa Laney.
Smith leads the team with 188 kills and 11 solo blocks, Laney leads the team with 44 serving aces, and Sloan has been an all around contributor with 78 kills, 24 serving aces, and 52 digs.
"All of them are leaders," head coach Jason Flowers said. "They have been playing for a few years together. Chemistry is there, so when they're passing well and setting well, they can score more points."
The talent on the team does not end with these three. Senior captain Georgia Waller has racked up serve receptions and digs in the triple-digits, while junior Luna Wan has accumulated 144 kills.
Injuries/Communication
Despite the roster the team has assembled, keeping that roster healthy has been a problem. Multiple players have been injured throughout the first half of the season, providing challenges on the Panthers' own side of the court.
Sophomore Grace Ramkissoon previously injured her ankle and has been out the past few weeks. Coach Flowers said that he hopes that she'll be back in light practice next week. She may not see playing time until the region tournament.
Junior Emily Knowles tore her ACL during practice in late August. She is having surgery in November.
Coach Flowers believes that despite these injuries, the team is at a really good spot with its roster.
"I think we finally kind of gotten our rotation going, so we've kind of settled in a little bit," Flowers said. "[Ramkissoon] coming back will make us better. [The girls] knowing where everybody is at, hopefully that'll come quickly."
These injuries have caused communication problems on the court earlier in the season. With the players that were previously injured coming back, the team is confident they can play at peak potential.
"We've known it's been a problem for a while, and we've talked about it," Laney said. "We're trying to work on it and that's definitely helped for the season."
Tough road ahead
The team may be getting everything back in order, but the big test will be the long stretch of away games.
Throughout the next month, the Panthers will be away or neutral against many challenging opponents, including Sandy Creek, Whitewater, and defending state champion McIntosh.
"They're all really good teams," Smith said. 
Starr's Mill will also play in the Elite 8 Showcase, facing off against the other top-eight teams from last year's state playoffs.
Despite the many challenges ahead, the team believes they are prepared to play the games ahead.
"I think playing on the road will be good for us because we've had a lot of home games," Flowers said. "It'll give us a chance to see some other environments, because we're going to be in a lot of different gyms. We definitely don't just want to be comfortable here. We want to be comfortable anywhere we play."
Looking Ahead
As the second half of the season begins, Starr's Mill goes in with a 14-7 record, 2-0 in region play. They are just under McIntosh in the region standings.
The Panthers travel to Griffin on Sept. 17 to face off against Whitewater and Griffin at 6:30 p.m. and 7:30 p.m. Starr's Mill does not return home until senior night on Oct. 7 against Our Lady of Mercy and Westlake at 5 p.m. and 7 p.m.