Abrupt end cannot sever bonds made
Two father-daughter duos prematurely end high school lacrosse careers, family bonds remain
The whole world has gone into a standstill due to the COVID-19 pandemic. With that brought an end to the spring sports season at Starr's Mill before it really even began.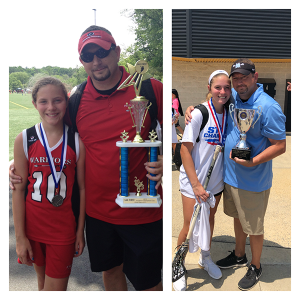 Lacrosse was shaping to have a great season, as the boys were undefeated before the season was shut down, and the girls were on their way to another trip to the state championship. 
For seniors Anna Beardsley and Ryanne King, not only has their time on the Panther Lacrosse field come to an end, but their coach to daughter relationship with their fathers as well.
"I was expecting to make another state championship," Ryanne said. "My teammates put in tons of hard work over the off-season and hoped to make another championship appearance."
Ryanne started lacrosse in third grade and instantly fell in love with the sport. Her father, Starr's Mill lacrosse community coach David King, started coaching her in third grade and has been her coach throughout her lacrosse career.
"Ryanne really grew up over the last two years with her off-field leadership," David said. "She was always an example on the field with her play and practice."
Beardsley began playing lacrosse after her older sisters Grace and Emily played lacrosse at Starr's Mill. Her father, another Starr's Mill community coach Kris Beardsley, became her coach in fourth grade and has also stayed with her for her entire lacrosse career.
"I was the last in my family to play lacrosse," Anna said. "Just going to my siblings' practices and being around it made me want to play."
"
Our families are as close as any we've ever known. The bond between us and between virtually every girl who played for us is indescribable."
— lacrosse coach Kris Beardsley
While on the Starr's Mill team, Ryanne and Anna each had different roles. Ryanne was one of the best face off artists in the state, winning just about every face off she was in to give her team instant momentum on the offensive side of the ball. 
She was also an important spark of the Lady Panther offense who broke the Starr's Mill all-time scoring record as a junior last season.  Off the field, Ryanne was a mentor to her young teammates as she was always willing to lend a helping hand when it came to lacrosse skills or personal problems. Through it all, her dad was right there by her side.
"My relationship with my dad grew a lot," Ryanne said. "We definitely had our hard times together but it made us closer. I couldn't have asked for someone else to be my coach all these years."
Anna's role was a little different. Despite not putting up huge stats like Ryanne, Anna did all of the little things that most people never notice. She had a great lacrosse IQ, and helped create opportunities for the scorers and assisted younger players in fine tuning their skills.
"Anna was not born with athleticism, so she had to work very hard to get to the level she finished her high school career at," Kris said. "That is what I'm most proud of, that she set her mind to the task, worked incredibly hard, and loved and was loved by her team."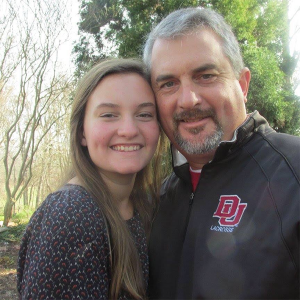 During the state championship last year, Anna couldn't play due to an ankle injury, but on the field and the sideline she was the ultimate cheerleader, supporting her teammates throughout their quest to the program's first state title.
"The SMHS girls lacrosse program is like home to me," Anna said. "My family and I have been a part of this program for a long time and the people are family. Most of the girls I played with throughout my five years of being a Lady Panther, I've been playing with since third grade. That kind of relationship is incredibly special and rare. I can't wait to see what those girls do in the years to come."
Kris and David started coaching together in 2011 when Anna and Ryanne were in fourth grade. During that time, their bond grew between their daughters, their families, and themselves.
"I consider Dave King my best friend," Kris said. "We have become close as brothers over the time that we coached the girls. Our families are as close as any we've ever known. The bond between us and between virtually every girl who played for us is indescribable. This isn't the end, but a very definitive new chapter for Dave and I."
This may be the end of two lacrosse careers, but it will not be the end of the relationship and the bond that the two families have created. A pandemic may have ruined their last season together, but this relationship sees no end in sight.
View Comments (1)