Steady on the petal
Panthers look to keep momentum going after 28-21 win over Griffin
Starr's Mill went head to head with long-standing rival Griffin High School in another game that went down to the last minute. The Panthers came out victorious 28-21 courtesy of some big plays and a late-game touchdown by junior Greigh Joseph.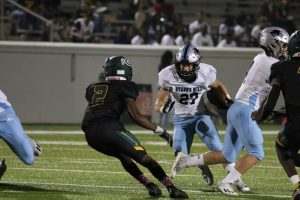 "All that matters in the end we really put together our foot on the petal and we scored and won the game," junior Josh Phifer said. 
Throughout the first half, both teams traded big plays. Griffin's senior quarterback Khalfani Harps scored on the opening play of the game, a 65-yard rush. Senior free safety Marc Stampley later returned a kick 89 yards for a touchdown. Starr's Mill led 21-20 at the half. 
The score remained 21-20 until junior running back Greigh Joseph scored on a one-yard touchdown run with 1:38 to play in the game.  
"We told Brandon [Mathis] and Greigh all week long that they couldn't tackle them and they wouldn't tackle them if they ran as hard as they normally do, and they did," head coach Chad Phillips said. "They really played well. Greigh, particularly, had the best game he's had ever."
Senior running back Brandon Mathis rushed 11 times for 147 yards with one touchdown. Joseph rushed 22 times for 133 yards and a touchdown. Junior William Yarbrough completed one pass for 19 yards, a touchdown pass to Phifer.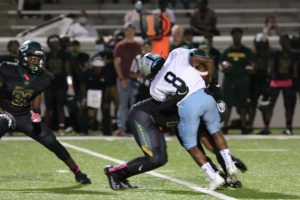 For the Bears, Harps accumulated 126 yards on 12 carries with one touchdown. Harps also completed 7 of 13 passes for 126 yards and one touchdown. Overall, Griffin rushed 28 times for 235 yards and had 361 total yards. 
"We got to practice harder, we got to really execute and make sure we got our plays down, our calls, signals, all of that," junior Jeremiah Jones said. "As long as we do that, we play hard, and we know we get dedicated, next Friday we're going to win."
Griffin now has two losses putting them below Starr's Mill and Whitewater in region standings who are both undefeated in region play. 
"We're going to enjoy this win for 48 hours and then coaches will start grinding on Whitewater," Phillips said. "It'll be the biggest game we've played with them since 2010."
This Friday the Panthers will battle the Wildcats for the top spot in the region. Starr's Mill travels to Whitewater for what could be the region championship. Kickoff is set for 7:30 p.m.