Annual Starr Awards banquet closing curtain for seniors and drama department season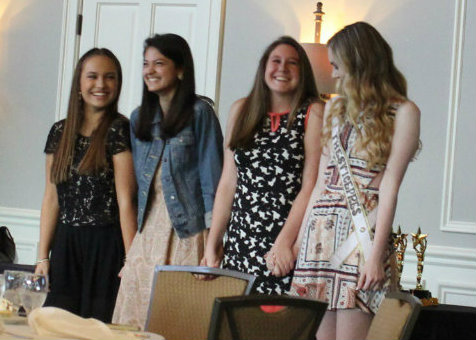 Plugging in the final cord into the projector for their 52-slide powerpoint, president Alexa Echevarria, vice president Nora Bill, secretary Anna Hall, and treasurer Dominique Dawson of thespian troupe 6412 couldn't wait to open the fourth Annual Thespian Recognition and Starr Awards Banquet with a few words. "It's such an amazing experience every year," Echevarria said.
Musical director Zachary Stutts said a few words about the success of the drama department over the year, emphasizing the productions of "Shooting Stars" and "Legally Blonde," before the award ceremony and thespian society induction began.
"We were successful in putting on the most set heavy, prop heavy, and choreography heavy show in the history of Starr's Mill productions," Stutts said. Several nod's of agreement waved through the cast and crew throughout the banquet hall after that statement.
"
I wasn't expecting an award knowing how many talented people were nominated. It was gratifying to know that my amazing directors thought so highly of my performance.
— senior McKay Mayfield
The "Thesboard" lead the thespian induction, where "membership is granted for the performance of meritorious work in theatre arts." The department recognized students who express their love for acting by attending productions, helping behind the scenes of a production, ushering and other volunteering related to theater.
Students tally these activities over their high school career, and students with 10 or more points are inducted into the Mill's thespian troupe 6412.
Seniors Hannah Aldinger and Danielle Johnson, juniors Chandler Cummings-McBride, Madison Hagen, Noah McPherson, Jilllian Ruvalcaba and Kade Smith, sophomore Kyrston Heath, and freshmen McKennna Rockwell and  Baylor Harris all received an official Thespian Society member certificate, signed by drama director David Klein and Echevarria.
Echevarria, Dawson, Hall and seniors Brooke Venturo, Emily Louis and Katie MacLauchlan were awarded with graduation cords for their work in the thespian society. "I have a total of 192 points, which means I'm an international thespian," Echevarria said. "It's something I have worked on all of high school, so it was something that was greatly anticipated and I was very excited about."
Echevarria also signed off her position as "Thespres" for troupe 6412 when she announced who was to take her place. She chose Bill as her successor, who previously served as vice-president. "I am so excited for Nora to take over the presidency," Echevarria said. "It's a little bittersweet, but I love Nora with all my heart. I know she'll do a great job."
Officers for the next school year includes sophomore Emily Treon as vice president, Ruvalcaba as secretary and junior Jordan Bobbitt as treasurer.
In the wake of their inauguration to office, the awards ceremony came in the spotlight. "It's always great to see the people who I've grown with over the year win an award for their hard work," senior Susannah Henderson said.
With 14 "Starr" awards to be given out, categories for awards included:
Best Actor in Fall Play – Jordan Bobbitt

Best Department Intern- Sammy Herr

Most Improved Advanced Drama I – Olivia VanKouwenburg

Most Improved Advanced Drama II – Avery Grillo

Most Improved Musical Theater Performer in "Legally Blonde" – Kade Smith & Jo Dearman

Outstanding Supporting Male Performance in "Legally Blonde" – Clarence White

Outstanding Supporting Female Performance in "Legally Blonde" – Jillian Ruvalcaba

Outstanding Leading Male Performance in "Legally Blonde" – Rollin Rockett

Outstanding Leading Female Performance in "Legally Blonde" – Hollyn Shadinger

Outstanding Achievements in Production – Jordan Bobbitt and 

Stage Management for "Legally Blonde"- Emily Louis

Breakthrough Performance of the Year – McKay Mayfield

Most Improved Intro to Drama

first period: Camber Branskey
second period: Laura Callen
sixth period: Rico Blalock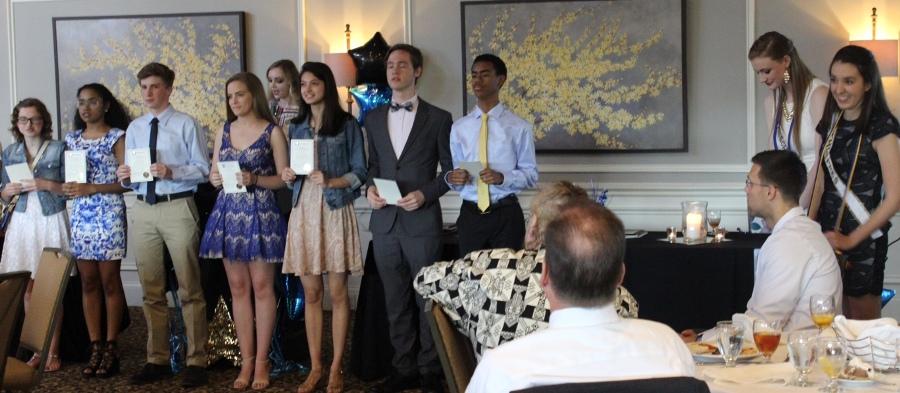 With "Legally Blonde" as Mayfield's first and last high school theater performance, he said that winning the award was humbling. "Honestly, I couldn't believe it," he said. "I wasn't expecting an award knowing how many talented people were nominated. It was gratifying to know that my amazing directors thought so highly of my performance."
As a fellow castmate to Mayfield, Echevarria's happiness didn't end with her friend's big win.
Echevarria also accepted a $500 scholarship on behalf of the drama department. "I am so humbled and honored to have received the fine arts scholarship," she said. "To be recognized and rewarded for my passion is an incredible thing, something only the drama department can offer, and the scholarship is a huge help to me and my family as I further my career in theatre at Wagner College."
Echevarria gave a teary-eyed special thanks to her friends, family, Stutts and Klein before sitting down.
Klein also said a few kind words to thank each production board member, co-presidents Darril and Kim Bill, treasurer Lori Grillo, recording secretary Jenny Hall, concessions coordinator Mike Echevarria, artistic coordinator Mary Beth Shadinger, and volunteer board members Cindy Coe, Tracy Rowell, and Zachary Stutts.
Steve Rambeck, volunteer set designer for the musicals, also contributed immensely according to Klein. During the musical, "I'd ask for something to be made and the next day, it would be there. I mean, it was really amazing," Klein said.
Considered the most highly anticipated segment of the evening by most students are the student-orchestrated senior awards. Echevarria said that "they're always a bit of a light joke, and very cryptic, so seeing what everyone is awarded is exciting."
Although these awards were a fun way to end the night, the Starrs' Awards hadn't officially ended.
The night wrapped-up with a heart-warming, four-minute senior video that Ruvalcaba self-directed and edited featuring the seniors of the Advanced Drama II class.
Filming began in December and the juniors helped Ruvalcaba with the project by getting together and recording their favorite attributes about each graduating classmate.  
The next day in class, emotions hit for many. "We re-watched [the senior video] in drama and that's when the tears came. As I was watching it I just thought 'how lucky am I to be loved by these crazy people,'" Louis said.