Panther Pride plays with E-motions
Amy Orr, Staff Writer
August 31, 2016
Colorful flags fly high into the air.  Drums reverberate off of the woods beyond. Horns blare their fierce sounds into the atmosphere. The sun beats down on the hard working band members, causing beads of sweat to collect on their skin. The Panther Pride marching season has begun.
"We always try to teach [the students] how to be responsible and we try to teach them about music, but as far as the audience, I want them to enjoy it and relate," band director Scott King said. "This show is very relatable, because everyone has those four emotions, so I want them to be entertained and appreciate the hard work the students do."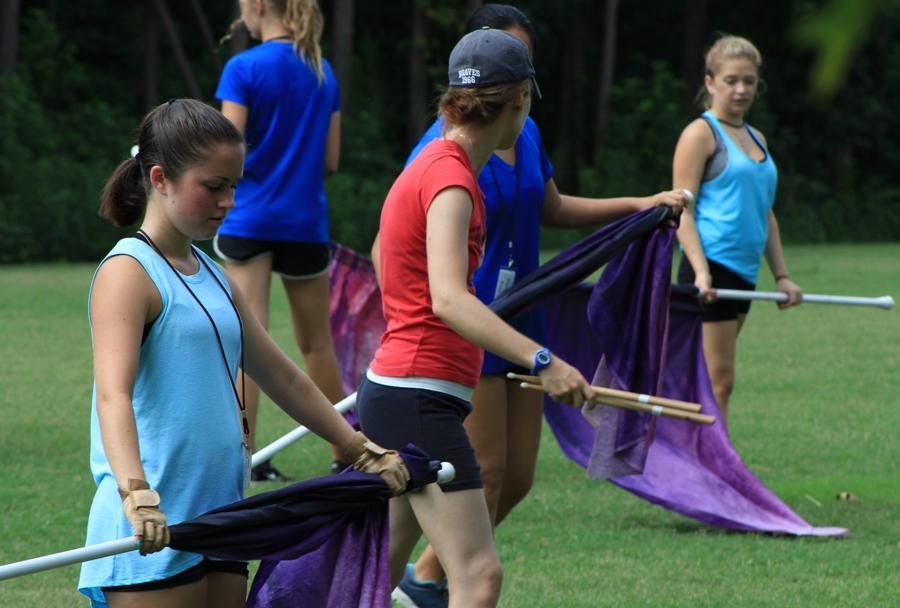 Preparing their show, E-motions, the Starr's Mill Panther Pride marching band has been hard at work this year. The show is based on four movements, each portraying a specific emotion: anger, humor, sadness, and happiness.  
"I like the potential this year's show has. I also feel that this show is going to be very competitive because it's theme is very [Drum Corps International]-like," senior band captain Kyle Meyhoeffer said. "I think that this show is entertaining for even an audience that has no musical experience."
King composed the first song, "Anger." It is based on "Dies Irae" which means death. "Humor," completely composed and written to have a circus feeling, comes next. The third song, "Sadness," is an arrangement of "I'll Never Get Over You Getting Over Me," an 80's pop ballad. They wrap up the show with the song, "Happiness," an upbeat version of "Get On Your Feet" by Gloria Estefan.
"I like the fact that it is four totally different songs, moods, musical concepts, and visual ideas," King said. "There are so many creative things that we can do with it."
In each movement, the band uses different techniques to express the emotions. "Anger" has a percussion-based foundation to add a striking feeling. "Humor" has many different comical elements featured in it. Several instrument changes take place, such as baritones switching to trombones in "Humor" and trumpets to mellophones in "Sadness."
To better the show, the band must work diligently. They practice Mondays, Tuesdays, and Thursdays from 4 p.m.  to 6:30 p.m. each week and often times on Saturday mornings.  
Each practice on the field contributes to the band's improvements for performance days.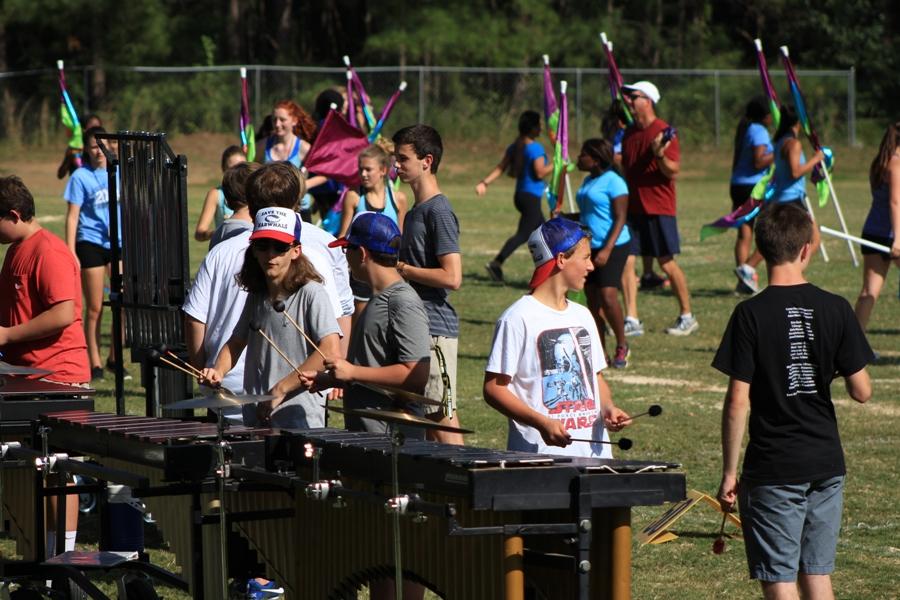 "Being in the band for four years and seeing it progress every year is amazing," senior Austin Zaharoff said. "We all start out as just musicians who can play and through many hours of practice and messing around, we slowly become a great marching band and one big family. Every year the band keeps getting bigger and better."
In early November of last year, the band directors began talking about the show, and King started writing during Thanksgiving break. The band students received their music in May, and began the structured work on the field during band camp in late July.
"It's a pretty big time commitment. It is my life for the fall. I can do other stuff but I'm more focused on band," junior drum major Erin Macke said. "I think it is worth it because I enjoy it. The people are great."
On Sep. 2, the Panther Pride marching band will perform at Starr's Mill for the first time at the varsity football game. The band will also live stream the performance on Periscope.