A tale of two teams
Panther basketball seeing insufferable lows at one end of the court, incredible highs at the other
Back in November, Panther basketball started their seasons with many questions. It was a mystery if the girls were going to build on the potential they have, and if the boys would be able to figure out how to get off the ground with a new coach and his new philosophy. Two months later the stories of these two teams could not be more different.
Panther Nation has watched the boys' team struggle to find their footing as they currently sit  winless in region play. Meanwhile, the girls have blossomed into one of the top teams in the state and currently boasts a 17-game win streak dating back to before Thanksgiving.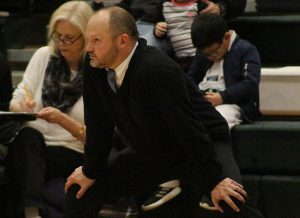 Boys 
4-18 overall, 0-10 in region
Winter break was the last time this team was able to win a game. After Tuesday's 61-42 loss to Riverdale, Starr's Mill sits last in Region 3-AAAAA and could become the first of any Starr's Mill team to not make the playoffs since the 2015-2016 girls' basketball team.
"To be honest I feel like we have good pieces that mix and match well at times and for specific teams," head coach Josh Reeves said. "We've had to really get people experience on that varsity level, especially on the defensive level."
Reeves takes the helm as the third head coach in three years for this Panther squad. The loss of the star power from graduated seniors and transferred underclassmen left behind a young, inexperienced lineup with plenty of expectations to fill. This less-than-desired combination has led to what seems to be a worst-case scenario.
Their season looks horrible at first glance. They are on pace to having the worst overall record in Starr's Mill history since 2006-2007 when the team finished 2-24 and only won a single region game. However, things for this year's team really have not been as bad as onlookers may think. 
Yes, the team is currently winless in region, but most of this has been due to circumstances. A new head coach with an inexperienced roster is not a good combination. It is not right to put the blame on either because both parties are trying to build their own legacy.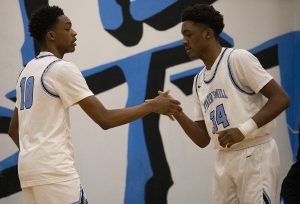 There is not much to say outside of that. Part of this will have its benefits down the road. It may not be this season, but all things take time, and Panther Nation is witnessing the growing pains of the rebuilding process. 
"The good thing about getting some of these guys experience is they know what they're gonna see when they get out there," Reeves said. "I feel like we got a lot of guys that want to win and sometimes experiencing losing will help you win."
The boys have a fair amount of underclassmen they can work with going forward. Sophomore Malachi Townsend will return, alongside his brother junior Michael Townsend, as well as juniors Brandon Allison and Elliot Baker. 
For now, bringing out the best of this team has been a process that Reeves and the boys have been working on all season. Time is running out to show what they can do. An upset win in the first round of next week's region tournament would be the perfect way to foreshadow the future of this young team.
Girls
19-3 overall, 10-0 in region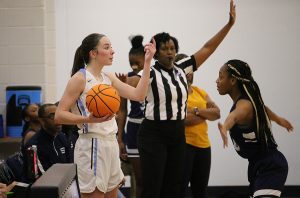 Starting the season, it looked like the girls' basketball team was set to do some good things. A couple months later, they have not only met expectations, but shot past them. Here we are now with a team on a 17-game winning streak, having not lost a game since Thanksgiving, and standing at 10-0 in region play. Sandy's Spiel ranks this girls' team No. 7 in AAAAA.
"We have five seniors who have played together many years, so their chemistry is really good," head coach Emily Sweeney said. "My starters have been starters since freshmen, so they have a lot of experience to bring to the table."
Try stopping senior Alice Anne Hudson who has scored over 1,500 points in her record-setting high school career. If somehow opponents do manage the virtually impossible, seniors Kara Dial and Ashtyn Lally will be right there to pick apart any opposing defense. Want to outscore them? Senior Ryanne King can shut down any advance in the paint, and when sophomore Jaclyn Hester is on target from outside the arc, the Lady Panthers jump out to a seemingly insurmountable lead.
All this star power at their disposal has done wonders for their success, but what about after this year? Four of the starting five are seniors. Other than the abundance of the juniors, the only other underclassman is Hester. Yet again, they do have Hester. Seeing how she develops throughout these next few years is crucial to their long term success.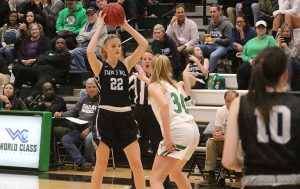 "Last year, [Hester] was just wanting to stand out on the three point line and shoot threes, and now this year you see her attack the rim a little bit and not just waiting on the perfect shot to come to her," Sweeney said. "She's gotta continue to attack on offense, and she's got to rebound and play good defense."
This team has not skipped a beat all season, grinding through difficult opponents outside of region play, including Sandy Creek, Spalding, Langston Hughes, Westminster, and Pace. Inside Region 3-AAAAA, Griffin seems to be the only potential threat.
Should Starr's Mill move past Griffin, who knows how far this team will go. What is known is that the Starr's Mill fan base should be packing the Panther Pit when these girls take the court. Hudson has already made history, and her career and the season are not over yet.
Looking ahead
These two teams are on different paths. The boys are struggling to find a way to win a game, and the girls are shooting for the stars. 
Coach Reeves and company have two more chances to get a region win or they will become the only boys basketball team in school history to go winless in region play. 
As the bottom seed, the boys will most likely face either Fayette County or Whitewater in the first round of next week's region tournament. A win then could make quite a statement and disrupt the region while securing the boys a playoff berth.
For the girls, this Friday's game against Griffin will be the only thing in their way of taking the top seed of the region and punching their ticket into the state tournament.  
After Friday's games at Griffin, both teams end their regular seasons on Saturday when they travel to Jonesboro to face off against the Cardinals. The girls will begin at 2 p.m., while the guys tipoff at 3:30 p.m.
View Comments (1)