'It's a new day'
Lady Panthers redeem previous losses, reclaim region title
Ever since the region realignment in 2016, Starr's Mill and Whitewater have competed for the region championship, with Whitewater winning the last two years. When the two teams competed earlier in the season Starr's Mill struggled to field the ball. Whitewater won commandingly 13-0 and 7-2. 
"
We just had to play our game, and it was just a new day…"
— junior Sydney Blair
"We just had to play our game, and it was just a new day, just reset and start over," junior Sydney Blair said.
Thanks to the pitching of junior Lilli Backes, and the hitting and base running at the top of the Lady Panther batting order, redemption was at hand as Starr's Mill traveled to Whitewater for the Region 2-AAAAA championship series.
In the first game, Backes faced 24 batters in seven innings, striking out 14 batters, and only giving up two hits. The only run Whitewater scored was on a passed ball in the third. Senior Jolie Lester went 3-for-4 with two singles, a triple, and two RBIs. Junior Julia Cliff went 2-for-3 with two singles, and a stolen base. 
"I think the girls feed off of [Backes], and how she's feeling and how she starts the game," head coach Mark Williamson said.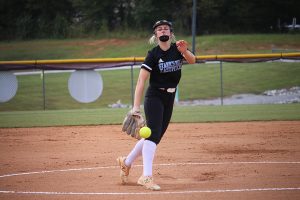 The Lady Panthers started off strong in the top of the first. Flanders led off with a double, then stole third base while junior Sydney Blair was at bat. Lester's single brought in Flanders, giving Starr's Mill a quick 1-0 lead.
The top of the second saw junior Kalin Blinstrub hitting a single, then advancing to second on a throwing error. Cliff bunted, sending Blinstrub to 3rd. In the next at bat, junior Sarah Latham's hit scored Blinstrub. The Lady Panthers took a 2-0 lead into the bottom of the second, where Backes notched two more strikeouts.
In the bottom of the third Whitewater started getting a footing with junior Dylan Bronkhorst's single. Senior Kyna Cheney's groundout allowed Bronkhorst to advance to second. Bronkhorst then stole third, and scored the only Whitewater run on a passed ball. The inning ended with Starr's Mill leading 2-1. 
"We executed and worked on what we needed to instead of just the grand scheme of things," Blair said.
After the Lady Panthers could do nothing in the top of the inning, Backes faced another threat from the Lady Wildcats. Sophomore Makayla Coffield hit a single to begin the bottom of the fourth. While senior Raeghan Byrom was at bat, Coffield stole second. Freshman Braeden Hale's sacrifice bunt allowed Coffield to advance to third. The next batter, senior Lily Griffith, was hit by a Backes pitch, putting runners on the corners with two outs. While senior Madilyn Cochran was at bat, Griffith managed to steal second. However, an eighth strikeout of the game ended the inning, leaving the score 2-1.
Flanders started off the top of the fifth with a groundout. A single by Blair was followed by Lester's RBI triple. At the end of the fifth, Starr's Mill led 3-1.
Backes notched six more strikeouts in the final nine batters. The Starr's Mill defense handled the rest, securing a 3-1 Starr's Mill victory.
"I think they were just comfortable in their positions, because we stopped moving them around.  We said this is the line up," coach Peyton Dean said. "We made an emphasis on situational defense leading up to this game."
Starr's Mill junior Sarah Latham started the second game throwing 2 ⅓ innings, giving up a single. Latham was pulled when Whitewater started to pose a threat in the third inning. Backes then  faced 19 batters through 4 ⅔ innings, striking out seven batters. Blair went 2-for-3 with two singles and a run scored. Senior Jolie Lester went 1-for-3, but she had an RBI double and scored a run on a passed ball in the third inning. 
Whitewater's sophomore Emma Friedel struck out seven batters. Junior Kyee Ricks went 2-for-3 with a single, a triple, and an RBI. Senior Raniya Canady went 2-for-3 with two singles, a stolen base, and a run scored. 
"We saw god pitching against [McIntosh pitcher] Rebecca [Muh], and we hit her really well," Backes said. "We knew that Rebecca was good or better than these pitchers."
The Lady Panthers continued to start off strong in the beginning of the second game. After a quick three-up, three-down from Whitewater to begin the game, Starr's Mill got to work.
After a dropped third strike for Flanders, a single by Blair moved Flanders to second. A throwing error on Lester's sacrifice bunt allowed Flanders to score the first run of the game. Starr's Mill ended the first inning up 1-0. 
Whitewater tied the game in the third. Senior Raniya Canady hit a single then advanced to second while senior Madilyn Cochran was at bat. With the Lady Wildcats threatening, Williamson made a pitching change, bringing Backes in to relieve Latham. A series of bunts from Cochran and Ricks allowed Canady to score, tying the game.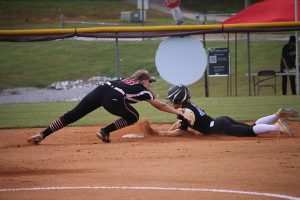 Starr's Mill quickly responded in the bottom of the third. Blair started the inning with a  single, then stole second while Lester was at bat. Lester recorded her second RBI of the game with a double that scored Blair. Then, Lester advanced to third while Backes was at bat and scored on a passed ball while junior Ashley Sikes was at bat. The third inning ended Starr's Mill 3-1.
Neither team managed any offense until the top of the sixth when Ricks hit a lead-off triple. However, Backes struck out Williams, Byrom hit a ground out, then Hale was struck out. 
The top of the seventh was Whitewater's last chance at redemption. Griffith and  Canady both hit singles, but the Starr's Mill fielding prevented any runs from scoring. Backes struck out the final batter ending the second game 3-1.
"[Backes is] just a competitor," Dean said. 'She's going to keep us in the game because she throws hard, she moves the ball around, [and has a] very nice change up."
Backes has recorded 34 strikeouts in her last three games. 
For the first time since 2017, Starr's Mill heads into the GHSA state playoffs a no. 1 seed. They host Jonesboro on Oct. 19. Forest Park will travel to Whitewater in the first round.