Putting the 'star' in Starr's Mill
Three-sport athlete reflects, prepares for collegiate play
Starr's Mill is known for its motto 'Demand Excellence,' and every aspect the school is approached with that mindset. Whether it be the drama department, the marching band, or athletics, the Mill is determined to be the best it can possibly be. This is reflected in the students, and especially one in particular.
Senior Alyssa Angelo is a rare three-sport athlete for the Panthers, having played in over 300 games during her high school career, earning 12 varsity letters. In the fall, she leads the softball team as the starting shortstop. In the winter, she gears up as a defensive menace at point guard for the Lady Panthers basketball team. In the spring, she takes the lacrosse field, a field she'll get used to in college at Winthrop University.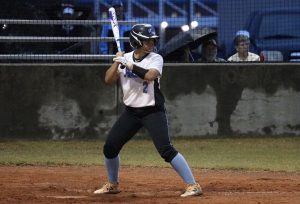 "I wouldn't be doing it if it wasn't fun," Angelo said. "All three of them are teams sports. It's like three extra families I get to be with."
Angelo started the school year on the diamond playing for head softball coach Mark Williamson. Angelo was a part of a deep Final Four run and was a member of a region championship team. Angelo completed her career with 65 hits, 47 RBIs, and a career batting average of .286.
Her main role came as a leader for the Lady Panthers, as they had many young pieces on the roster during her final season.
"This year was a great year for her all around," head softball coach Mark Williamson said. "She stepped up in a leadership role and was always there for her teammates."
Once softball season ends, Angelo laces up to take the basketball court where she plays point guard. The defensive menace averaged over two steals per game and forced one charge per game. Angelo was normally tasked with defending the opposing team's best guard, and her hustle and skill normally caused problems for those guards.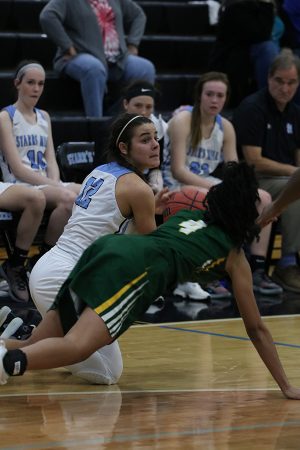 However, what Angelo did on the court was more than just putting up numbers and bothering opponents. She was a part of a class that helped turn around the girls' basketball program at the Mill.
"[Angelo] is a great player," head girls' basketball coach Emily Sweeney said. "She works hard and gives you everything she's got."
During Angelo's freshman year, the Lady Panthers finished with a 15-10 record and the following year they finished 12-13, missing the state playoffs. After Sweeney took over as the head coach, Angelo along with rising seniors Alice Anne Hudson and Ashtyn Lally turned the team around. Throughout Angelo's final two years, the Lady Panthers went 40-17 and reached back-to-back region championship games.
Angelo was a crucial piece to the girls' basketball program as once again her role as a leader brought the team together. The chemistry of the team helped spark their successful seasons.
"As a senior I felt that it was my job [to lead]," Angelo said. "It could be the hardest part, but it's worth it."
Despite all of the games she logged and the postseason runs she experienced, Angelo failed to win a state championship on both the diamond and the hardwood. However, the 2019 Lady Panther lacrosse team delivered what she desired most.
The Winthrop commit played with a fire all season and elevated her play in the postseason. As the Mill knocked off opponent after opponent throughout their 13-4 regular season, they built a bond that turned the team into a force to be reckoned with. They averaged 18 goals per game and outscored their opposition 90-29 on their way winning the first lacrosse state championship south of I-20.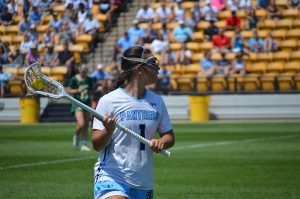 After scoring five goals in the semi-final game, Angelo scored twice in the championship game and made hustle plays that kept the momentum in the Mill's favor. Her passion and desire for a state ring was on display during their final game. Angelo left the game after the opening draw with an ankle injury but returned to be the leader the team needed on the field.
"As a lacrosse player, she never slows down. She plays every inch of the field," head girls' lacrosse coach Mary Lehman said. "As a teammate, she has tremendous leadership skills. All the girls look up to her."
While Angelo accomplished a lot in her career, she always made sure to put her team first. Whether she was at shortstop, point guard, or midfield, she held herself and her teammates accountable which allowed for the success those teams experienced.
"I just want to win all the time," Angelo said. "Being so competitive, things like that, drove me to keep playing."
The Winthrop women's lacrosse team is coming off of an 8-11 season in which they lost in the second round of the Big South tournament. However, Angelo is no stranger to helping lead a turnaround of an athletics team. She will join a young Eagle team that is only losing three seniors to graduation.
Just three years ago, Winthrop was 20-3 and made a trip to the NCAA Tournament. Angelo could be a crucial piece in returning the program to that type of glory. If her high school career is any indication, she won't back down from the challenge.
"I'm kind of excited to be a freshman again and having to prove myself," Angelo said. "I think it'll be fun to reinvent myself again."
Leave a Comment