Bringing the autumn thunder
Looking back at Starr's Mill fall sports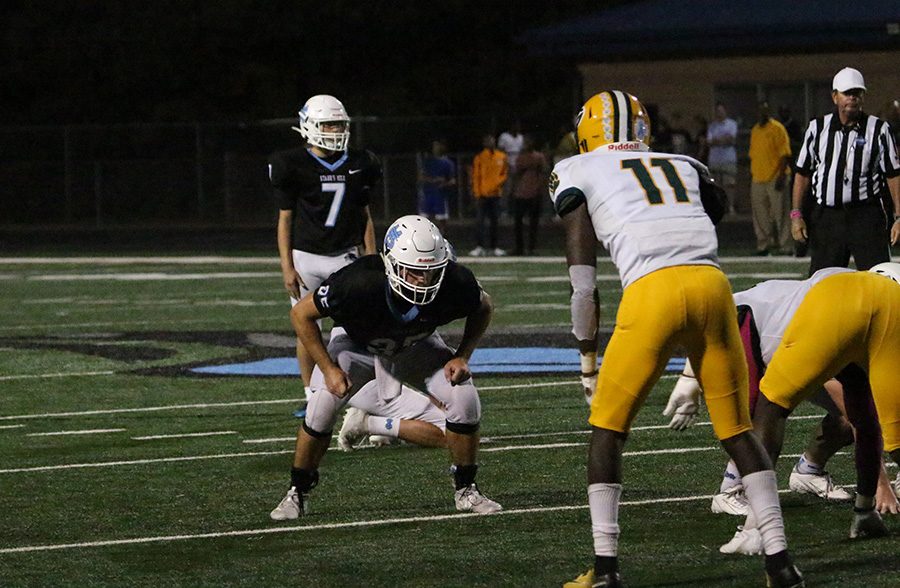 As school weeks continue to come and go, Starr's Mill sports have achieved what they set out to accomplish at the start of the year. From softball finishing a successful season, competitive cheer battling through a difficult season, cross country and volleyball chasing state titles, and football chasing a region championship. Sports here at the Mill have thrived all season long.
Softball
Lady Panther softball competed in the AAAAA state tournament this past weekend. They fell in two close games to Locust Grove, who later won the state championship, and to Carrolton by scores of 2-1 and 3-2, respectively.
"We just couldn't get any big hits," head coach Mark Williamson said. "Defensively we didn't necessarily play too bad, we pitched pretty well. It just didn't seem like we could get the hits when we needed them."
Softball ends the season with a 27-8 record. The team will be losing four seniors, including pitcher Paige Andrews, who was the second half of the pitching rotation for the Panthers. Despite this, they are loaded in talent with their underclassmen.
Juniors BYU commit Lauren Flanders and UNG commit Jolie Lester led the team's strong hitting core all season. Flanders led the team in hits with 54, and batting average with .535. Lester led the team with 42 RBIs and four home runs. 
Sophomore Lilli Backes has asserted herself as a dominant pitcher with a successful season. Backes accumulated six shutouts, 193 strikeouts, and an ERA of 1.32. Most of the games she had pitched were against teams that made the state playoffs.
"Overall it was a good season," Williamson said. "[We] beat some good teams. When we were at the top of our game, we could play with anybody in the state. This year we just fell a little bit short of getting maybe a final four or a finals game."
Cheerleading
Cheer is currently wrapping up their regular season with one more competition to go. With the talent on the team, shaking off the injury bug is the big issue.
"We're looking good, we're tweaking, refining, and really just looking toward state," head coach Heather McNally said. "That's our goal at the moment. Doing everything we can do to get ready for state."
The team has competed three times this season. They placed third at Carrollton, first at McIntosh, and fourth at Ola. Starr's Mill dropped out this past weekend at Northgate due to several injuries.
Injuries have plagued the team since the season began. Once one person got healthy, somebody else would get injured on the team. Overcoming these injuries is key to giving their adventure a happy ending.

"[Our injures have] kind of been like a rotating door," McNally said. "We're just really hoping to keep everybody healthy and good for these last three competitions."
Prior to the region championship, Starr's Mill cheer will head to Putnam County on Nov. 2 to compete one last time before the regular season ends.
Cross country
Cross country is on their way to another state championship off of the strong runners they have.
"Seeing ourselves on top for the boys and runner up for the girls gave the kids some confidence," head coach Kelly Rock said. "They've been consistently improving and it's put them in really positive spirits going into state week."
Leading the boys in the region championship were juniors Joseph Muzzillo and Colton Olvey, with first and second placements and times of 16:51.70 and 16:56.85. The boys placed first in the region championship meet with a near perfect score after claiming six of the top seven spots.
Freshman Hailey Ross and Junior Allie Walker led the girls with times of 20:33.75 and 20:16.64. Junior Darby Olive did not run due to injury. The girls placed second in the region meet behind McIntosh, who accumulated a perfect score.
"This team certainly has what it takes to come out on top," Rock said. "Anything is possible. They are one of the higher ranked teams for the 5A title. I think we're going to go in, we're going to run our best and make podium."
The cross country team will compete in Carrollton in the state meet on Nov. 1.
Volleyball
Volleyball's season came to a crushing end after a 3-2 back and forth match against Whitewater in the state tournament semifinal.
"I don't think we played aggressively," head coach Jason Flowers said. "I don't think we were playing to win. I think we were playing not to lose."
Four valuable seniors will be leaving the team, including seniors Tessa Laney, who led the team in aces with 105, and Georgia Waller, who led the team in digs with 398. Despite the losses, there is still a great amount of talent coming back.
Sophomore Nicole Smith and junior Luna Wan have led the team in kills with 379 and 423, respectively. The team will also get back junior Emily Knowles, who was out the majority of the season due to an ACL tear. Volleyball finished with a 33-13 record on the season.
"I think it was a great year," Flowers said. "Being able to get to this point again is a great accomplishment."
Football
Football began the season with a rocky 2-3 start. However, they bounced back with a hard earned 38-35 victory against Griffin and have not lost a game since. They currently stand at 5-3 with a 3-1 region record.
"We scheduled good teams on purpose to make us battle ready, so when we get to the region, we're ready for high quality competition," head coach Chad Phillips said. "The recipe has worked again. [We've] played the best ball the whole year right now, right when you need to."
Seniors Kalen Sims and Ben Bodne have continued their powerful running attack. On the season, Sims leads the team with 778 yards, and Bodne is making a name for himself as a touchdown machine with twelve on the season.
The Panther defense has continued to be strong. In fact, they have already surpassed last year's total for interceptions. Juniors Cole Bishop and Wes Haney have continued their great play only allowing three total points against county rivals Whitewater and McIntosh.
With two games left in the season, the Panthers are in a prime position to take a fourth consecutive region championship for the class of 2020, becoming the only class in school history to accomplish this feat. To do this, they will have to take on the Riverdale Raiders (7-1) and the Fayette County Tigers (2-6) to claim the region title.
"We're pretty much all healthy," Phillips said. "Had a week off this past week and everybody got rested. We're right where we want to be, in a chance to win the region championship."
Starr's Mill football will continue in the race for the region championship by heading to Southern Crescent Stadium on Nov. 2 to face off against the Riverdale Raiders. Kickoff is set for 7:00 p.m.
This fall, we have seen Starr's Mill sports shock and amaze. If this kind of success is present in the winter and spring sports season, Starr's Mill looks like a strong candidate for the Director's Cup once again.